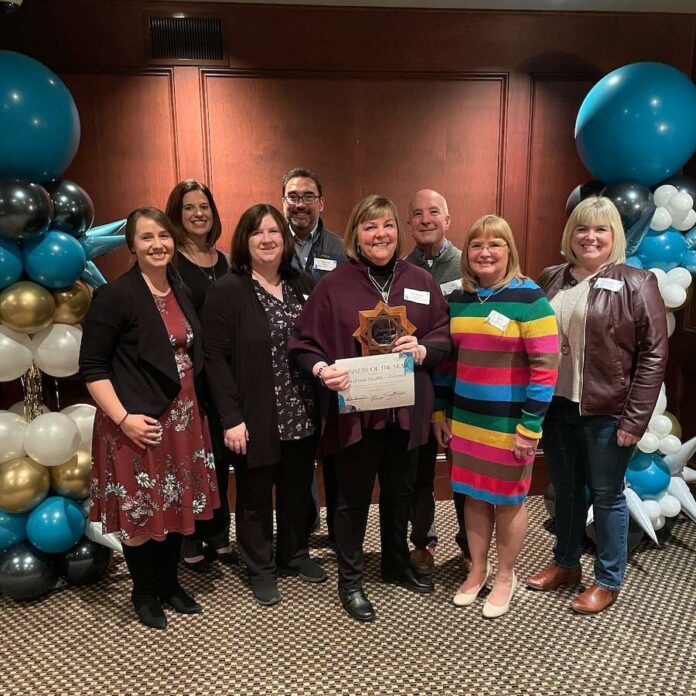 GRINNELL, IA – The Grinnell Area Chamber of Commerce recognized UnityPoint Health – Grinnell Regional Medical Center as the 2023 Business of the Year at its Annual Celebration, which took place March 8 at the Grinnell College Golf Course.
"We are humbled and thrilled to have received this honor from the Chamber," says Jennifer Havens, President & CEO of UPH Grinnell. "Our team members have been through so much the past few years, and it's really encouraging to see them and our organization recognized for the hard work and dedication to our community's health."
The Chamber recognized UnityPoint Health for their demonstrated history of success in the Grinnell community and surrounding region. "UnityPoint Health – Grinnell is a significant contributor to our local economy; they have shown innovation out of necessity and work tirelessly to keep our residents healthy," says Steve Gant, Chair of the Board of Directors for the Grinnell Area Chamber of Commerce.
The Grinnell Chamber's Annual Celebration recognizes outstanding businesses, organizations and individuals in a variety of award categories. Nominations are sought from the public, with the final recipients chosen by a selection committee composed of chamber of commerce members.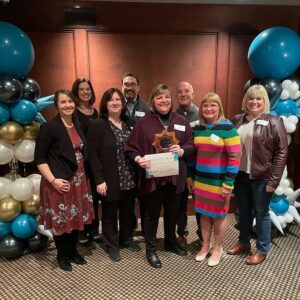 UnityPoint Health – Grinnell: Leah Van Rees, Lisa Hart, Donna Fischer, Henry Rietz, Jennifer Havens, Bill Menner, Kim Jones, Sarah Smith
In addition to naming UnityPoint Health – Grinnell as the 2023 Business of the Year, the Chamber recognized other businesses, organizations and individuals during the event, which was sponsored by The Bill Menner Group, Grinnell College and UnityPoint Health – Grinnell. The award recipients and a brief description of each are included below: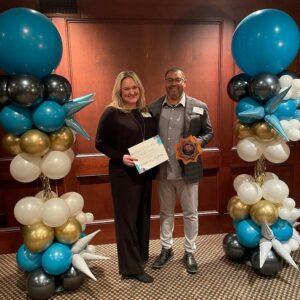 Prairie Canary: Kalyin & Paul Durr
Restaurant of the Year: Prairie Canary finds creative ways to engage with a broader audience offering a variety of special evenings and occasional brunches. Appealing to residents and visitors alike, the business utilizes locally sourced products whenever possible. They recently took the opportunity to reinvent a previously underutilized space in their building, renovating the lower level to a fun and trendy, password protected (code: 2023) Speakeasy.
MCG: Kevin Stensrud, Rylie McAlexander, Trent Arment, Steve Burnett, Clayton Kincart
Service Business of the Year: MCG (Mahaska Communications Group) has shown substantial growth over the past few years both in physical locations as well as service offerings. Having officially broken ground in the community in 2021, they have become a trusted and engaged community partner, working to help address community-wide access to broadband, and
assisting with standing up hotspots for events and even partnering with their sister company to provide temporary lighting in the community when needed.
GrinnTogether Awards: These awards aim to highlight positive collaborations and recognize businesses, individuals and organizations who are doing exemplary work to make Grinnell a great place to live, learn, work and play.
100+ People Who Care: Born from a vision by local philanthropists, the group aims to meet financial needs of organizations in the area. The collective philanthropy from this group has supported efforts in and around the Grinnell community to the tune of over $285,000. Now 130 members strong, the group continues to grow and support even more causes into the future.100+ People Who Care: Ashley & Chris Grundler

Not Pictured: Liz Hansen: An educator in the Grinnell-Newburg School District for 32 years, she hasn't strayed far from education in 'retirement'. Her work with the Grinnell Education Partnership and the Grinnell Newburg School Foundation helps support local families by focusing on equitable solutions – including affordable internet access and summer enrichment programming – for those in our community. She recently authored a children's book and is donating the books' proceeds to PALS.Read 2 Lead: Lisa Cirks, Jill Harris, Jessica Kite

Read 2 Lead: Their work to help address early childhood literacy spans many community partnerships and their collaboration with the Dolly Parton Imagination Library offers a book delivered monthly to children ages 0-5. Their Back 2 School Bash helped secure over $10,000 – a real commitment to help support the schools' literacy efforts and local elementary students.Sharp Barbering: Dustin Sharp
Dustin Sharp, Sharp Barbering: Dustin has dedicated time and effort to build his business, made time to advocate for his trade locally and regionally which ultimately gained support via an apprenticeship program, and serves as an educator to others in his industry. Opening his businesses doors to provide free haircuts for area youth is just one tangible example of his leadership and positive impact in the Grinnell community.
The Grinnell Area Chamber of Commerce works to support its member businesses and organizations, and community at-large. 'We have tremendous businesses and organizations in our community,' says Rachael Kinnick, president and CEO of the Chamber. 'We are grateful to each and every one of them for their part in making Grinnell an extraordinary place to live, learn, work and play.'
The Grinnell Area Chamber of Commerce is an independent, 501©6 non-profit organization focused on the Grinnell community. The mission of the Grinnell Area Chamber of Commerce is to advance the economic development, vitality, and growth of the community. For more information on how to join the Chamber or get involved, please visit grinnellchamber.org or call 641-236-6555.