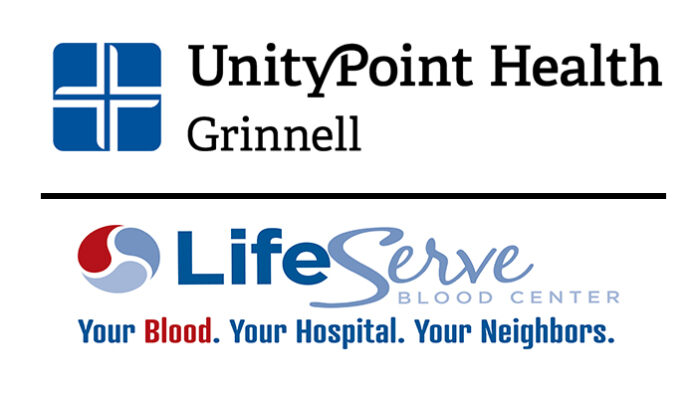 Donations today can save lives tomorrow.
(GRINNELL, Iowa – March 28, 2023) – UnityPoint Health® – Grinnell Regional Medical Center (GRMC) is partnering with LifeServe Blood Center to host a mobile blood drive on Friday, April 28, from 11 a.m. to 3 p.m. The LifeServe Bloodmobile will be parked in GRMC's northeast employee parking lot at the corner of 4th Ave. and Reed St. in Grinnell. To schedule an appointment to donate, please visit donor.lifeservebloodcenter.org/donor/schedules/drive_schedule/181087.
All donors should be in overall good health and are encouraged to be rested and well-nourished at the time of donation.
Appointments are highly encouraged.
Blood donors should pre-screen themselves for fever prior to donation appointments.
Donors must be at least 16 years or older. If first time donors are 16 or 17 years old they must have a signed LifeServe Blood Center parent/guardian permission form.
Blood donation with LifeServe is a quick and painless process. The entire donation experience only takes about an hour. LifeServe also shares the following perks of giving blood.
Save lives – one pint of whole, donated blood can save up to three lives.
Mini physical – donors can find out their blood type, blood pressure, pulse, temperature and hemoglobin (iron) levels.
Oil change – the body replaces donated blood with fresh blood; consider donating an oil change for your body.
For additional information about LifeServe Blood Centers and donor eligibility, please visit www.lifeservebloodcenter.org.