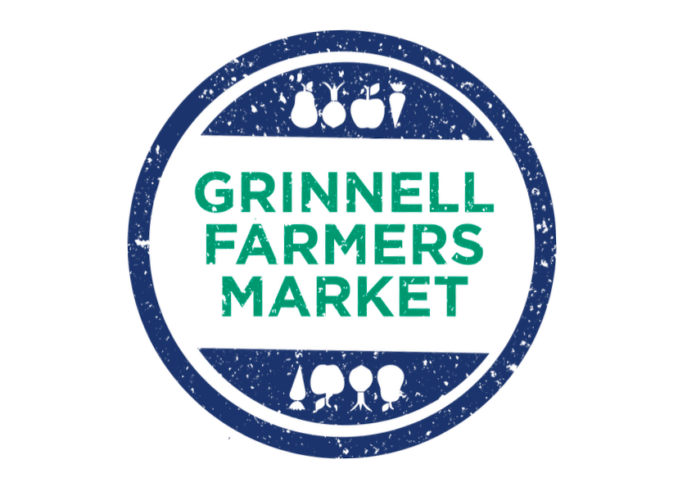 GRINNELL, IA – The Grinnell Farmers Market has opened its application process for the 2023 season! Market will kick off Thursday, May 11 from 3-6 PM and Saturday, May 13 from 10 AM-Noon and will run until October 19 and 21 at the corner of Fourth Ave & Broad Street, around Central Park.
Vendors interested in participating can choose between Thursdays, Saturdays, or both, as well as full time or part time status. The market is currently seeking food and non-food vendors to participate in the 2023 season, noting that the Grinnell Farmers Market is a 100% producer market. New rules have been enacted at the State level, which will mean some changes to products you may be able to find or sell at this year's market.
Vendors looking to sell Cottage Foods products must carry insurance, and complete required training. All vendors will be required to sign a Hold Harmless Agreement with the Chamber. All details, rules and regulations can be found at www.grinnellfarmersmarket.com. Printed copies of the application, rules and code of conduct can be picked up at the chamber offices at 833 4th Ave. Questions can be directed to Marissa at Marissa@getintogrinnell.com or 641-236-6555.
A limited number of full time applications will be accepted and applications will close once slots have been filled.Part time applicants will be accepted on a rolling basis throughout the market season, though week to week availability of spots may vary.
The 2023 Grinnell Farmers Market is sponsored by the Claude & Dolly Ahrens Foundation, Grinnell College and UnityPoint Health – Grinnell Regional Medical Center. Businesses interested in sponsoring the market can contact Marissa for more information. For the latest market information, make sure to follow the market on Facebook and Instagram at @grinnellfarmersmarket or sign up for our weekly email newsletter by visiting our website.
About the Grinnell Farmers Market
The Grinnell Farmers Market is a 100% producer grown or made market, meaning that all items for sale must be entirely grown or made by the vendor or immediate family members. All items must be made or grown in Iowa.Vendors are responsible for filing state sales tax permits where applicable. Grinnell Farmers Market is a program of the Grinnell Area Chamber of Commerce.
About the Grinnell Chamber
The Grinnell Area Chamber of Commerce is an independent, 501©6 non-profit organization focused on the Grinnell community. The mission of the Grinnell Area Chamber of Commerce is to advance the economic development, vitality, and growth of the community. For more information on how to join the Chamber or get involved, please visit grinnellchamber.org or call 641-236-6555.