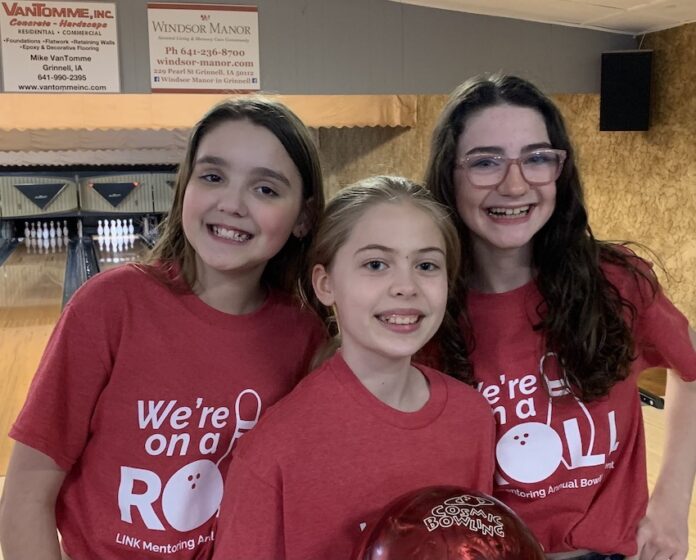 Scroll to the bottom for more pictures and indents.
The Link Mentoring Annual Bowling Event: We're on a Roll took place on Saturday, April 1. During the bowling event, over 100 bowlers hit the lanes at the Bowladrome in Grinnell.
"This year's event was a true celebration of mentoring," says Ashley Grundler, mentor coordinator for LINK Mentoring. "This school year our mentoring program has more than doubled in size, and our annual bowling event was a great time to celebrate this growth." Grundler adds, "It's amazing to see all of the businesses, organizations, and individuals who support our program by sponsoring this event, bowling with us, or donating prizes. Seeing so many people gathered in the Bowladrome is so special. We are thankful for all of the support."
Three bowling sessions were held over the course of the day, and prizes were awarded to the highest scoring team, as well as the highest scoring individual. The highest scoring team from the entire event was also recognized. Various prizes were also given out during the sessions for strikes and gutter balls. A separate Crazy Bowl game was held in between sessions, and winners were entered into a drawing for prizes. There were also door prizes given out during each of the sessions. Prizes were donated by various local businesses.
During the first session, the Grinnell State Bank team took the top prize for highest scoring team with a score of 136.3. The team members were Jessica Dillon, Hannah Gregory, Tammie Gregory, Niesje Licht, and Jamie Murphy. Todd Zell, bowling for the Grinnell Fire Department, received the highest score for an individual with a score of 207.5. Zell was also the overall high scoring individual of the event. There were four bowlers who bowled three strikes in a row (also called a turkey). Those bowlers were Scott Collins, Autumn Flanagan, Josh Jameson, and Todd Zell.
Team Biggest Lebowski was the highest scoring team in the second session with a score of 122.9. Team members were Scott Collings, Lisa Hart, Luke Kotz, Adam Laug, and Rachel Stensrud. Shane Hart, of the Bigger Lebowski team, was the highest scoring individual with a score of 174. Shane Hart, Angela Kennelly, and Gaige Kenoyer took home turkeys.
The winning team of the third session and the overall event was reigning champs Andy's Auto with a score of 160. Wyatt Crawford, of the Andy's Auto team, was the top scoring individual with a score of 202. Justin Beach, Laura Manatt, and Olivia Sandquist took home turkeys. Corey Latcham won the Crazy Bowl drawing.
Local businesses that sponsored this year's event at the platinum level were Claude W. Ahrens Charitable Trust, GreenState Credit Union, and Grinnell College. Additional event sponsors include Bayer Crop Science, Claude W. & Dolly Arenas Foundation, Inc., Grinnell Herald Register, Grinnell Ministerial Association, and Total Choice Shipping and Printing. The Mayflower Community provided lunch to the bowlers.
Proceeds from the event benefit the local LINK Mentoring program, which matches elementary and middle school students with mentors in their school-based program.
For more information on LINK Mentoring, please email mentoring@linkgrinnell.org or visit www.linkgrinnell.org.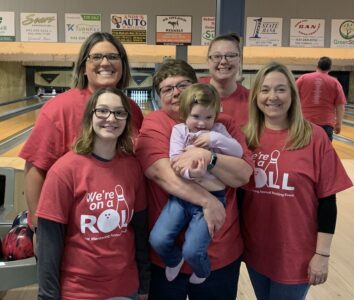 Grinnell State Bank was the top scoring team for the first session. (Pictured L to R: Tammie Gregory, Hannah Gregory, Niesje Licht holding Emma Gregory, Jamie Murphy, and Jessica Dillon)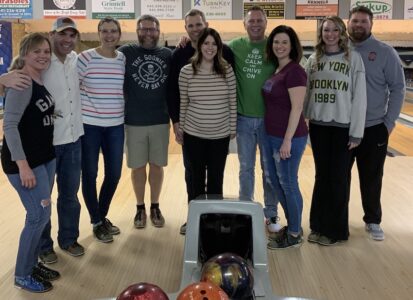 The highest scoring team of the second session was the Biggest Lebowski. They are pictured with team Bigger Lebowski. (Pictured L to R: Jen Kotz, Luke Kotz, Molly Campe, Adam Laug, Scott Collings, Kara Collings, Shane Hart, Lisa Hart, Rachel Stensrud, and Kevin Stensrud.)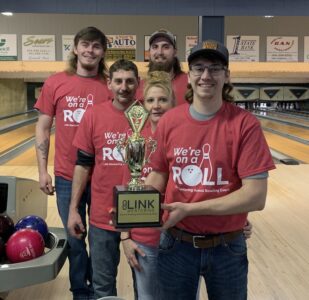 The top scoring team of the third session and overall event was reigning champs Andy's Auto. (Pictured L to R: Wyatt Crawford, Andy Beach, Karen Moore, Josh Burns, and Justin Beach holding the tournament trophy.)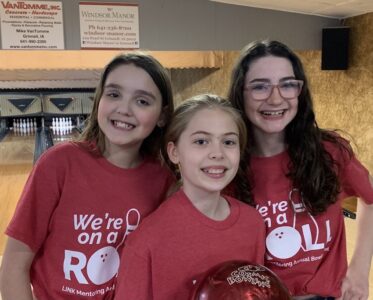 Our youngest team was a group of GMS 5th grade students. (Pictured L to R: Claire Grundler, Ariana Edsen, and Audrey Norris.)