SBA Recognizes Mike Olson of Lincoln Savings Bank in Grinnell as the Iowa SBA Veterans Small Business Champion of the Year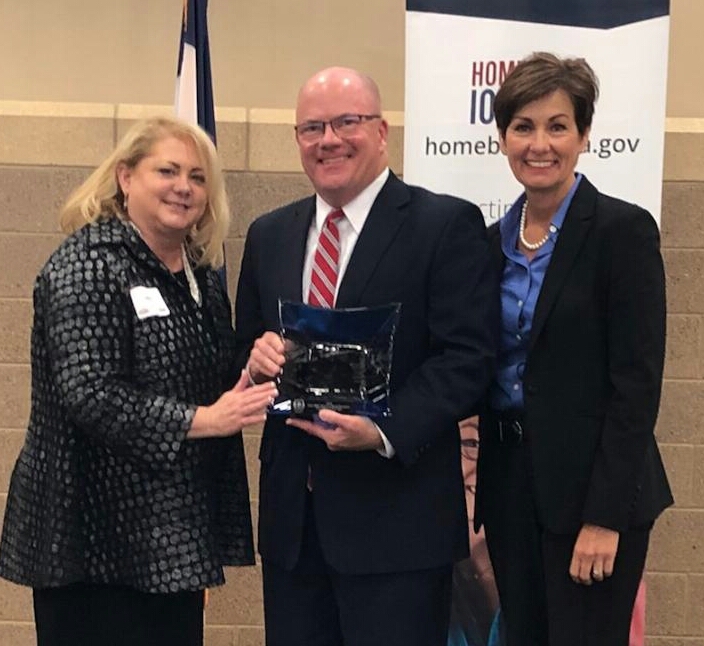 (DES MOINES, Iowa) – The U.S. Small Business Administration recognized Mike Olson, VP of Lincoln Savings Bank in Grinnell, as its Iowa SBA Veterans Small Business Champion of the Year during the 2018 Home Base Iowa Partner Summit at Camp Dodge in Johnston on Tuesday.
 The award is presented to an individual in Iowa who has fulfilled a commitment to the advancement of veterans business ownership through the following:
•   Efforts to increase business and financial opportunities for veterans.
Legal, financial or managerial assistance provided to enhance veterans business ownership.
Voluntary efforts to strengthen the role of veteran business owners within the community.
Advocacy of the veteran-owned business community as a whole, not solely for individual personal advancement.
Other accomplishments demonstrating effectiveness in improving the environment for the creation and expansion of businesses owned and operated by veterans.
 Olson has been in the banking industry for over 25 years serving in several roles at various banks, from teller to market president. As a vice president at Lincoln Saving Bank in Grinnell, Olson works on the commercial lending side with a focus on small businesses. Through his professional and personal interests, Olson has made a specific commitment to working with veterans and military families as they start, grow and build their small businesses.
Olson has volunteered his time to conduct several training modules throughout Iowa for the SBA's Boots to Business: Reboot entrepreneurship program for veterans, their spouses and other members of the military community.  Olson not only volunteers his financial expertise to this program, but his military experience as well. As a retired Lieutenant Colonel in the Iowa Army National Guard, Olsen is familiar with the structure of service and the challenges that many individuals and their families face when returning from service. His ability to make those connections as military personnel and their family's transition and consider small business ownership makes him an excellent champion for veteran business owners in Iowa.
Olson was nominated by Darcella Craven, President of the Veterans Business Resource Center in St. Louis, MO (the Veterans Business Outreach Center that serves Iowa).