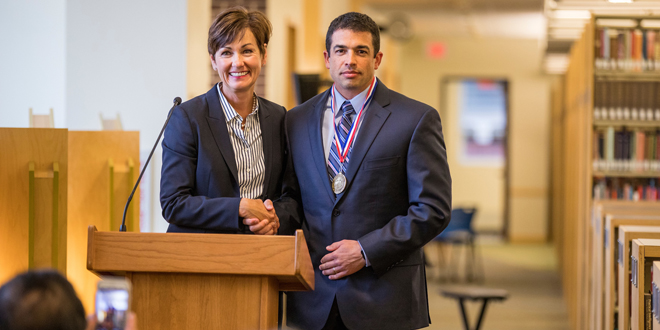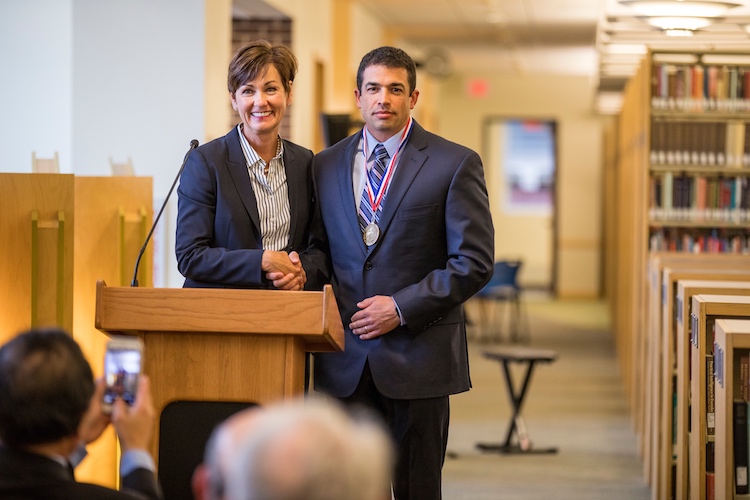 Iowa awards highest civilian honor to renowned Grinnell graduate Robert Noyce 
Iowa Gov. Kim Reynolds presented the Iowa Award to Noyce's grandson in the Noyce Science Center
 GRINNELL, Iowa — Iowa Gov. Kim Reynolds has posthumously recognized 1949 Grinnell College graduate Robert N. Noyce, inventor of the integrated circuit and co-founder of Intel Corp., by presenting the Iowa Award — the state's highest civilian honor — to Noyce's family.
Attending the awards ceremony were members of Noyce's family, including his daughter, physician and author Dr. Pendred "Penny" Noyce, along with several grandchildren. Also attending the ceremony, on the evening of Friday, Sept. 28, in the Noyce Science Center, were Grinnell College leaders, state officials and family friends.
"As we recognize and celebrate an exceptional Grinnellian and outstanding Iowan, it is only right that we gather in our Robert N. Noyce Science Center," said Grinnell College President Raynard S. Kington. "It is a model facility for teaching and learning — a vibrant extension of the life of an Iowan who exemplified innovation and entrepreneurship and the application of science for the good of humanity."
Robert Noyce's grandson, Michael Noyce Merino, accepted the Iowa Award. "It is an honor to receive this award on behalf of my grandfather," he said. "When I think of Iowa as a state, I think of pioneers. Not just the covered-wagon folks who came here, but pioneers in education, pioneers in science and engineering, pioneers in business, and eventually, pioneers in space."
Having grown up on a farm near Grinnell, Robert Noyce graduated from Grinnell High School and received a bachelor's degree in mathematics and physics from Grinnell College. He went on to earn a doctorate in physics from the Massachusetts Institute of Technology.
In 1960 Noyce received a patent for an integrated circuit, a discovery that made the microchip possible. He co-founded Intel Corp. in 1969 and later gained international fame for his role in the computer industry, earning the nickname "Mayor of Silicon Valley." His work contributed greatly to the digital revolution of the 20th century, and he remained a visionary figure in the field until his death in 1990.
"My grandfather took his work ethic and the lessons he learned from being a farm boy and a hard-working young man here, to Silicon Valley," Noyce Merino said. "And he changed the culture there and set a precedent that would change the entire world. And that is something we are so proud of and so grateful for."
"While much has been written about Dr. Noyce in journals and magazines, there is a piece of advice he gave that stood out to me," Gov. Reynolds said. "He shared this with would-be entrepreneurs: 'Optimism is the essential ingredient for innovation. Go off and do something wonderful. How else can an individual welcome change over security and adventure over staying in a safe place?' His positive mindset transformed an industry and inspired many generations. Yes, Dr. Noyce was a giant in technology, but he never forgot his Iowa roots."
In honor of her father, Pendred Noyce is giving each middle school in Iowa a copy of her new book, "Inventors, Makers, Barrier Breakers," to encourage young people to follow their dreams.
"There is an inventor inside each child — a person who is optimistic, creative and ready to delight in making something new," she said. "Something happens to most of us, where we decide the world is too advanced for any new inventions we could think of, or that only very smart people — not us — can be inventors. I want to show kids the stories of all sorts of Americans who came up with an idea, persisted, overcame obstacles and saw their idea come to life in the world. This gift is a thank you to Iowa."
The books that have been sent to Iowa middle schools are among more than 4,000 copies being donated to middle schools across the nation. The donations are made possible thanks to generous support from the Gordon and Betty Moore Foundation. Gordon Moore co-founded Intel with Noyce.
The Iowa Award was created by the Iowa Centennial Memorial Foundation in the late 1940s. The foundation selects a recipient approximately every five years. The award encourages and recognizes the outstanding service of Iowans in the fields of science, medicine, law, religion, social welfare, education, agriculture, industry, government, and other public service.
In nearly 70 years, the Iowa Award has only been given to 25 individuals. Past recipients include: President Herbert Hoover; James Van Allen, founding father of the Space Age; Dr. Norman Borlaug, Nobel Peace Prize winner and World Food Prize founder; First Lady Mamie Eisenhower; Simon Estes, internationally renowned opera singer; and Carrie Chapman Catt, women's rights activist.