Jingle Bell Holiday offers festive family fun, merry shopping, and more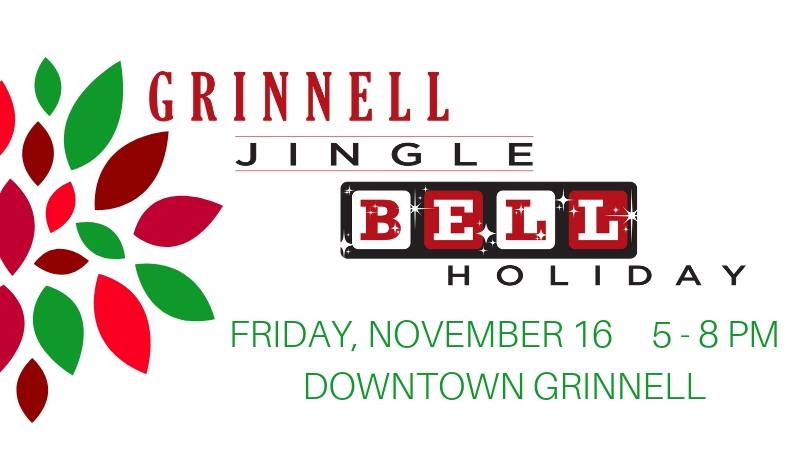 GRINNELL– Grinnell's annual holiday shopping kick-off event, Jingle Bell Holiday, will be held downtown on Friday, November 16, from 5 to 8 p.m. Guests are invited to enjoy festive activities and promotions at a variety of businesses, and receive double punches on holiday punch cards on all purchases made throughout the event.
Santa Claus will be visiting with children at Grinnell State Bank; photos taken by Cory Hall Photography.  Carriage rides will be available downtown free of charge, with pick up and drop off at the northwest corner of Central Park. Dancers from Michelle's Dance Academy will perform a dance routine shortly after 5pm in Central Park with the Central Park Lighting to follow.
A team of volunteers has worked to develop a holiday plan for Central Park that will be debuted during Jingle Bell Holiday, and will include lighted and static displays which will remain visible through the end of the year.
The Winter Farmers Market will be back for a third year, with a variety of food and craft vendors setting up shop at the former St. Mary's Education Center (1013 Broad Street) from 5 to 8pm.
More than 20 businesses and organizations will be hosting kid activities and crafts, refreshments, open houses and other activities during the evening. Businesses and organizations participating in the evening festivities include the following (all activities are at their place of business unless otherwise noted):
Anna Kayte's Boutique:Free gift with purchase, awards cash earned with every purchase over $50. Ladies preview night will be November 16th!
Ballyhoo in Ink: Create your own photo magnet! Drawings for discounts and free gifts throughout the evening as well.
Bates Flowers by DZyne:Get prepared for the holidays with these great specials! Buy one, get one half off on holiday decor, free Mexican Hot Chocolate cookie with all purchases over $30 and half off baking mixes.
Beckman Gallery:Stop in to pick up some new holiday decor to make your home festive for the season!
Bill's Jewelry:Kids can design their own jewel-themed Christmas tree! Cookies and treats available, too. Plus visits from Mrs. Claus!
Brown's Shoe Fit: Grinnell Community & College Band will be playing live holiday music! Deals on Smartwool socks – buy 3 get 1 free, 10% off sale items, and $15 off any regular priced item of $60 or more.
Giggles & Bows:Stop in for refreshments and cupcakes while you shop for holiday gifts and outfits!
Grinnell Area Arts Council: Too Many Strings Band will be performing in the Art Center along with the MICA "empty Bowl" Fundraiser – buy a bowl made by our local ceramic artists, get some soup, and take the bowl home. All proceeds go to MICA. The Stew Art Studio will be hosting a Local Artist Market.
Grinnell Children's Choir: Performing at 5:30pm at the United Church of Christ.
Grinnell State Bank:Stop in to see Santa from 5-8pm! Paragon Church will have coloring sheets and cookie decorating while you wait and Cory Hall Photography will be on-site to take photos, if you wish.
Hair of the Dog:Cinnamon Apple Cider, Hot Chocolate, activity for kids, and treats for 2 & 4 legged kids
Handmade for the Holidays: A pop-up store featuring handmade holiday items will be in the south space of Bikes to You (921 Broad Street) this holiday season and will be open for Jingle Bell Holiday!
Heartland Iowa Realty: Beaded candy cane and wreath crafts, music and refreshments
Jennifer Weinman Photography: Winter backdrop set up in studio, with a selfie station for you to take photos or I can take your photo! Bonus points (and a $5 gift card!) if you post your selfie and tag JWP in it! Hot cider and caramel popcorn will be out as well!
Loralei's Gift Shoppe: Craig and friends performing, spiced cider and Mom's cookies.
Malcom Lumber: Wine Walk — take a stroll through our new kitchen displays while sipping on wine fromVan Wijk Winery. Wine may be purchased at the event for your holiday gatherings along with items for your "honey-do " list from the lumber yard.
PALS:Stop by to see some cute, cuddly cats that are available for adoption. PALS will be located in Hair of the Dog for the evening!
Peace Tree Brewing Company:Releasing 'Everything Nice', a Red Rambler infused with holiday spice, during Jingle Bell Holiday! Complimentary snacks in the taproom from 5-8pm
Phase 2 Consignments: Cookies and hot cocoa or cider
Pioneer Bookshop: Live reading of Flies & Carrots by local author Ryan McGuire, hot chocolate and cookies, craft projects for kids to take home. Children can fill a "Wish List" and parents can stop by in November or December to receive 10% off anything on that list.
Premier Employee Solutions: Will have candy canes, cookies and hot cocoa again this year. They will hold a drawing for those that bring in items for the food pantry. One item equals one entry…bring in multiples and get multiple entries!
Stepping Stones Christian Bookstore:Stop in to try Mom's famous fudge and pick up your free Christmas catalog full of specials and coupons! Plus lots of in-store specials including purchases between $25-49 will receive a free $5 gift certificate and purchases of $50 or more will receive a $10 Stepping Stones Gift Certificate!
S&S Appliance: Black November Sale
Solera: Wine tasting and bottle sale
Suzi's Boutique: Wine tasting and snacks.
The Stew Art Studio:Hosting a Local Artist Market.
Total Choice Shipping & Printing– Santa's Workshop will be open for holiday packing & shipping supplies and services, in-store specials on holiday cards & photo gifts, and the elves will be accepting letters to Santa!
United Church of Christ:Snacks and kids craft activity immediately following the Grinnell Children's Choir performance.
Winter Farmers Market: Winter market will be in a NEW location this year – the former St. Mary's Education Center on Broad Street. Join many of our vendors for local crafts and baked goods. We'll also have hot coffee and cocoa available!

Winter Market vendors:

Bunny Traxx Ceramics
– Ceramic items, kitchen towels, oven mitts, clothing protectors, scrubbier, recycle trash bag holders, lid grippers and insulated water bottle carriers
Compass Plant CSA
– Produce, breads, frozen pasture-raised chicken, pasture raised heritage pork products
Soaring Creations
– Homemade skin care products including soaps, body oils, salves, salts, lotion bars, lip balms
Olson Garden Market
– Handmade holiday signs & décor
Lim's Cookies
– Cookies, candies, woodwork and crocheted items
Busy Bee Acres
– Honey, lip balm, body lotion bars, bees wax wraps
Sips Coffee Company
– Pour over coffees, bagged coffee for purchase, and hot chocolate
The Bunny Farm
– Nuts, bread, baked goods, jams
Mary's Country Store
– Misc. products made and donated by parishioners
The Cookie Jar Bake Shoppe
– Cakes, cupcakes, sugar cookies
Wander Wag Collar Co.
– Handcrafted dog collars
Jingle Bell Holiday 2018 is organized by the Grinnell Area Chamber of Commerce and sponsored by Grinnell Mutual, Grinnell College and Los Girasoles.