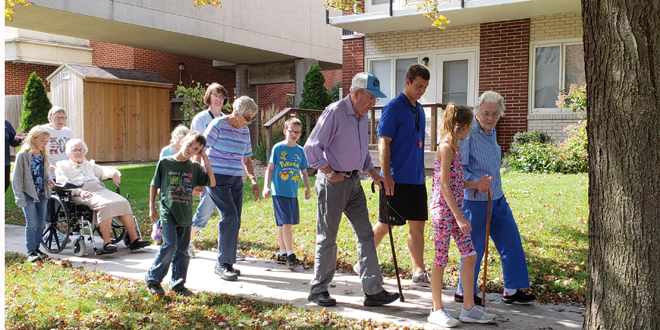 Healthy Walkers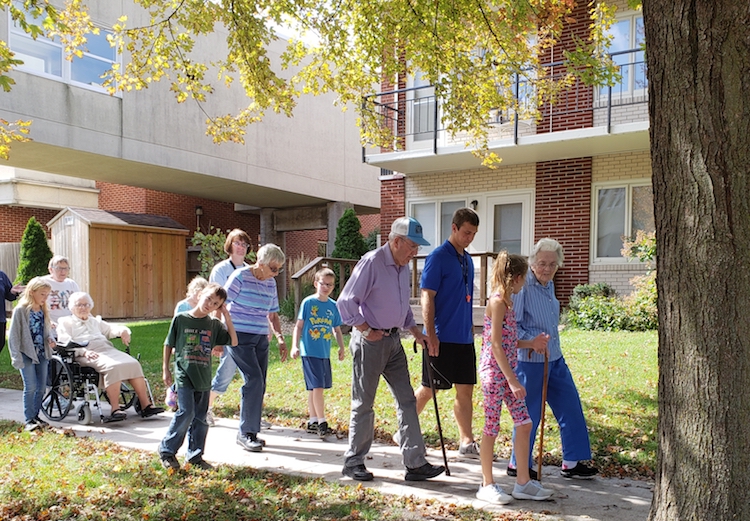 On Wednesday, October 3, 2018, Mayflower residents and staff joined with Davis Elementary School students to participate in the statewide "Healthiest State Initiative" to walk around the campus.
Over 50 Davis 4thgraders and teachers accompanied about 40 Mayflower Health Center, Beebe Assisted Living, and independent living residents and staff for the five-block walk.  It began and finished in the beautiful Buckley Courtyard.
One of the participants was 101-year old Coleen McGriff (white blouse "riding" in the accompanying photograph).  The day was humid, hot, and windy.  Coleen did not complain!  Even the kids thought it was fun.
The only conflict the group experienced was the split decision between the students and Davis staff as to whether to hang around and enjoy famous Mayflower treats or take them back to school to get back on schedule!
By participating in the Walk, Mayflower continues to demonstrate our commitment to maintaining good health for a lifetime.
Iowans in all 99 Iowa counties supported the Healthiest State Initiative in 2017 with 30 minutes of walking, marking the third consecutive year in the Healthiest State Walk's seven-year history that organized walks.  This recent Walk marks the Walk's seventh year and its fourth 99-county consecutive year.  It is sponsored by a consortium of organizations, led by the Iowa Department of Public Health.