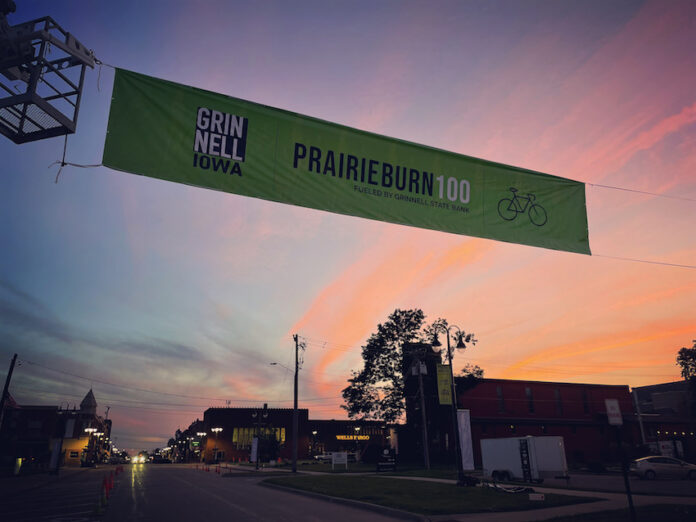 With the daylight savings time change, gravel riders in and around the Grinnell community are ready to resume weekly gravel rides as they prepare for the annual Prairie Burn 100 gravel bike ride fundraiser on Saturday, June 10th, 2023 in Grinnell, IA. Registration is now open for the June Prairie Burn 100, the primary fundraiser for the non-profit Imagine Grinnell, a group that supports environmental, sustainability, and health initiatives in the community. 
"We launched our first Prairie Burn 100 event in 2019 and it's been unbelievable to see the groundswell of cycling – and specifically gravel cycling – interest in Grinnell," says Tim Ellsworth, Imagine Grinnell President. "The bike ride fundraiser on June 10th perfectly emulates what we are trying to accomplish with Imagine Grinnell – bringing the community together for healthy and sustainable activities; which is why we are excited to ensure those activities are available nearly all year long."
Starting on March 14th, the Prairie Burn group will host weekly gravel rides every Tuesday, taking off at 5:30 PM from Bikes to You in Grinnell, IA. The group will also offer "gravel curious" rides on the third Thursday of each month starting March 16th that are specifically geared towards those interested in learning about gravel biking. These rides also begin at 5:30 PM and start at Bikes to You in Grinnell, IA.
"Our weekly rides started a few years ago with a handful of avid gravel riders and now we average around 20 or more attendees; we encourage anyone to come try it out, especially for the gravel curious Thursday rides, and we'll help them get started," says Jason Dillon, Imagine Grinnell board member. "The group rides are a great way to prepare for the Prairie Burn 100 not only from a training perspective but also to gain more knowledge and skill at riding and addressing circumstances that can occur on any normal gravel ride."
The Prairie Burn 100 is a one-day gravel cycling event that begins at 8:00 AM in Grinnell's Central Park. Cyclists can choose to ride 25, 50, or 100 miles along predetermined routes around Grinnell, ending back in Central Park. New to the event this year will be a 5K Fun Run which will start and finish at the same location in Central Park, with runners taking off at 9:30 AM.
"We realize gravel cycling isn't for everyone so we have added a 5K run to create even more opportunities for the community to enjoy a fun morning of healthy activities," says Holly Pettlon, Imagine Grinnell board member and wellness specialist. "Our family bike ride at noon will be another great option for cyclists who might want to bring the kids over to the park and take a one-mile guided lap from Central Park to Lake Nyanza and back." 
Alongside the gravel rides and run, there will be Yoga in Central Park at 9:00 AM, the Grinnell Farmer's Market from 10:00 AM – 12:00 PM, Storytime Art in the Park presented by the Drake Community Library and the Grinnell College Museum of Art from 10:30 AM – 12:00 PM, a family bike ride taking off at 12:00 PM from the starting line in Central Park and a smoothie bike station throughout the day. Grinnell Craft Brewhouse will offer beverages and the Dari Barn On the Mooove food truck will serve at the event starting at 11:00 AM. Any food trucks interested in participating in the event may contact info@prairieburn100.com. 
Registration for the Prairie Burn 100 is 40 dollars per gravel cyclist, with a discounted family rate, and 10 dollars per 5K Fun-Runner. The first 100 sign-ups earn a free Prairie Burn 100 tote bag. To register for the event, visit bikereg.com/prairie-burn. Prairie Burn 100 short sleeve jerseys, unisex bibs and sleeveless jerseys can be ordered online at prairieburn100.com. Orders placed by April 4th will arrive prior to the event.
For more information on the gravel ride, fun run, activities, and the Prairie Burn group overall, visit prairieburn100.com. Those interested in attending weekly gravel rides who need a bike are encouraged to reach out to info@prairieburn100.com or call Jennifer Cogley, Director of Partner Programs at the Claude W. and Dolly Ahrens Foundation, at 641-236-5518. 
Imagine Grinnell, the nonprofit for which the Prairie Burn 100 raises funds, is a partner program of the Claude W. and Dolly Ahrens Foundation that encourages healthy, sustainable living in and beyond Grinnell, Iowa. Some recent initiatives include the development of a plate-to-plant compost service, planting 1000 Trees in response to the 2020 Midwest derecho, and managing Marvin Garden, one of the town's nine giving gardens. To learn more about Imagine Grinnell, visit imaginegrinnell.org.
The Claude W. and Dolly Ahrens Foundation encourages the development of Grinnell via education, parks and recreation, and health, the foundation enhances current and future residents' quality of life with its own initiatives and that of its ten innovative, various partner programs.