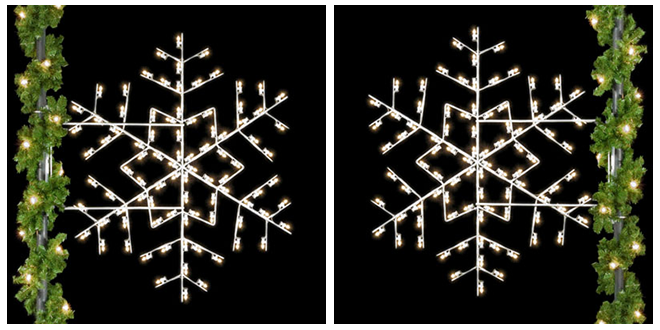 New Holiday Decorations for Grinnell's Central Business District
GRINNELL, IA – In preparation for the upcoming holiday season, a committee is seeking funds to purchase new holiday decorations for the 2018 season, which will attract more people to Grinnell's Central Business District.
The current holiday wreaths have been used in the Central Business District for more than 30 years, and their age shows. The new decorations will be a combination of banners (some of which will also include custom state maps) and lighted displays on 125 light poles, which will add color to the city during both days and evenings. These decorations will be placed all through the Central Business District, including the intersections of West Street and near Central Park.
The new holiday decorations are on order and a fundraising campaign is launching to cover the remaining expense, following contributions from Grinnell's Hotel/Motel Tax Committee and Grinnell College. An additional $14,000 is needed to cover the remaining balance.
Fundraising committee members include Fran Conn, Starnes TV & Appliance (retired), Bill Hammen, Bill's Jewelry (retired), Lori Vos, Loralei's Gift Shoppe & Village Decorating Studio and Cassie Wherry, Grinnell College Pioneer Bookshop. The Chamber of Commerce is overseeing this community project. Contributions may be made online at
https://www.grinnellchamber.org/en/events/jingle_bell_holiday/holiday_light_pole_decoratio ns/
or can be mailed to: Grinnell Chamber of Commerce, Holiday Lights Fund at PO Box 538, Grinnell, IA 50112. Your donations will help brighten Grinnell's holiday seasons for years to come. Any questions may be directed to committee members and/or the Chamber of Commerce at 641-236-6555.