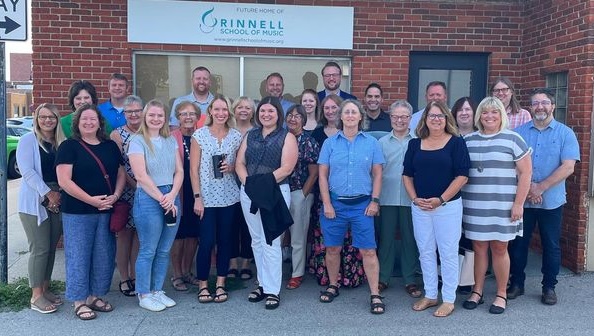 Ambassadors got an early look at the future home of the
Grinnell School of Music
today. Executive Director Erin Bustin shared more about the current status of the school and fundraising efforts along with plans for the future.
Currently, Grinnell School of Music is operating out of the space that previously was home to Studio E Grinnell on Broad Street. They currently have 7 teachers instructing 40 students in lessons. Students range from ages 0 (Music Together program) to retirement age. They are at capacity for the number of students and lessons they can offer at their current space and are planning to expand in a new space at 750 5th Ave (old Michael's Space).
Bustin shared more about the vision for the space which includes a large group classroom, and smaller rooms for individual lessons. This will allow for a variety of group classes to be held along with more space for individual lessons to be held throughout the day and into the evening. With the expanded capacity for students, Bustin hopes to attract more area musicians to provide lessons. At this time, they offer piano, guitar, ukulele, violin and voice lessons but hope to expand these offerings to include things like percussion and electric guitar lessons which aren't feasible in the current space.
The Grinnell School of Music is a registered 501c3 nonprofit and is about 70% towards its fundraising goal. This money will help with the interior buildout of the space, purchase all necessary equipment needed, support scholarships for any student interested in classes and help with project management and operational costs. Their current goal is to be open in the new space by fall of 2024. If you're interested in learning more or donating, visit their website at
www.grinnelllschoolofmusic.org.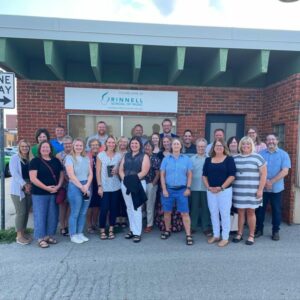 Middle: Jennifer McAlexander –
JM Consulting
&
Hawkeye Lock & Security
, Donnette Ellis –
Grinnell College Community Connections
, Dorothy Spriggs –
Carriage House Bed & Breakfast
, Cassie Wherry –
Pioneer Bookshop, Grinnell College
, Lesley Wright – Board Member, Ashely Symbol –
First State Bank
,
Edward Jones – Financial Advisor: Hannah Wilson
, Luke Kotz – Board Member, Jeff Finch –
Wes Finch Auto Plaza
, Donna Fischer –
UnityPoint Health – Grinnell Regional Medical Center
, Brad Lindberg – Board Member, Jon Edwards – Board Member
Front:
Whitney Bair Crawford, Agent with New York Life
, Monica St Angelo –
Grinnell Area Arts Council
, Marissa Pronschinske – Grinnell Chamber, Rachel Arseneault –
Timm Agency, LLC-American Family Insurance
, Erin Bustin – Executive Director, Maura Strassberg – Board Member, Fran Conn, Lisa Cirks –
Cirks Financial Services
, Sarah Smith –
Grinnell College