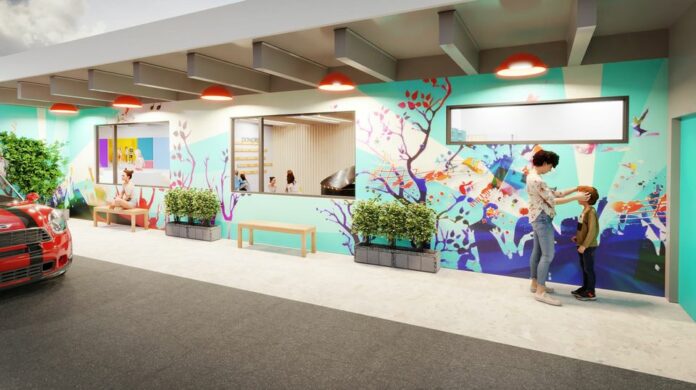 The Grinnell School of Music is delighted to announce a generous sponsorship from Grinnell College to create public art as part of a safe and inviting entrance to the Grinnell School of Music.
Grinnell College has pledged $75,000 towards the Grinnell School of Music's $750,000 capital campaign, earning the naming rights to the original mural on the west wall of the School at 720 5th Avenue in Grinnell.
The College's pledge will transform a utilitarian alley space into a vibrant, welcoming entrance and waiting area. It will fund a mural commissioned from a professional artist celebrating music, learning and community. The pledge will also provide benches, planters, lighting, and stanchions dividing the space along the building from the alley, making it a safe place for students to be dropped off and picked up.
Monica Chavez-Silva, Grinnell College vice president of community engagement and strategic planning adds, "Grinnell College is pleased to be able to join with other community partners in support of this important downtown project. Not only will the downtown school help make music education more visible and accessible to the whole community, it will also help draw more people into the downtown supporting downtown vitality. The College is glad to be part of the collaborative effort to help bring this to life."
Artist's rendering of mural placement and drop-off area. (Dan Clark, Generate Design)
Public art will activate the exterior of the School of Music, signaling a creative space and making a positive impact on the downtown landscape. "As a school that believes in supporting artists with fair wages, we want to create an equitable process for selecting and compensating a practicing artist to create our mural," says board member Lesley Wright. "We want the artist to work with our community to develop a visual representation of creativity in Grinnell."
"It's especially fitting that Grinnell College is making this mural possible," says Executive Director Erin Bustin. "It will transform the alley and drop-off zone into something as beautiful and welcoming as it is practical: an entryway for our students, but also a destination for visitors, and a point of pride for all of us who call Grinnell home."
The mural and exterior space will be dedicated at a special unveiling event.
About Grinnell School of Music
The Grinnell School of Music is a vibrant community music school in Grinnell where children and adults access professional music instruction. With an emphasis on participatory, community music-making in addition to excellence in performance, the school provides music education and opportunities for recreational, competitive, and professional musicians alike, equipping students to become lifelong practitioners and performers.
The Grinnell School of Music is a 501(c)(3) designated charitable organization.