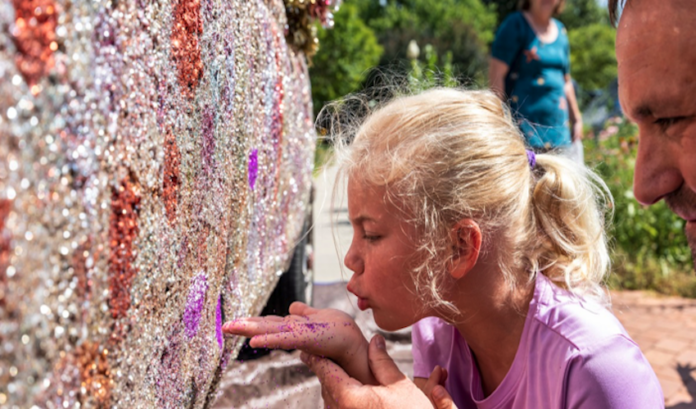 Central Park Inclusive Playground: $30,000
Grinnell College pledged $30,000 towards the Central Park All-inclusive Playground project led by the City of Grinnell and the Grinnell Parks & Recreation department. This project will expand the current Central Park playground with new equipment so that children of all abilities can play more independently, making the community more welcoming for all. This donation will be allocated towards the Grinnell Mutual Group Foundation's challenge grant.
Unity Point Labor and Delivery Room: $100,000
Grinnell College also pledged $100,000 to UnityPoint Health – Grinnell's "Delivering Our Future" Campaign, supporting essential labor and delivery services in the local community. This project will add additional labor, delivery, recovery, and post-partum rooms and upgrade the current obstetrics facilities.  These facilities improvements reflect UnityPoint's commitment to keeping delivery services local and improving delivery experiences for families through other efforts such as participation in Iowa's Maternal Quality Care Collaborative. Recognizing that more hospitals are eliminating labor and delivery services, Grinnell College appreciates the longstanding partnership with UnityPoint and welcomes this new opportunity to help make Grinnell a welcoming community for young families.
Grinnell School of Music: $75,000
Grinnell College has further committed to supporting Grinnell School of Music's mural and outdoor waiting area with a $75,000 pledge. By renovating the former Michael's restaurant building, this new downtown school will make music education visible and accessible to the broader community while also revitalizing the central business district. Grinnell College is excited to collaborate on the mural project and foster place-making connections across the state.
Supporting RAGBRAI Grinnell
In addition to these major gift donations, Grinnell College proudly served as supporting sponsor for RAGBRAI's 2023 ride through Grinnell in July, both as a financial supporter and also through significant in-kind contributions, such as grilled fare provided by the Grinnell College Golf Course and Dining Services, water and cooling stations on campus, and a chance to interact with campus art at the Grinnell College Museum of Art as well as with public art "selfie spots" across campus. Marking RAGBRAI's 50th anniversary, this was a special opportunity to showcase the city of Grinnell and the Grinnell College campus to the thousands of participants, support crews, families, and visitors who joined the event and spent time in our community.
Monica Chavez-Silva, vice president of community engagement and strategic planning in the office of Community Partnerships, Planning, & Research, shared, "Grinnell College appreciates the opportunity to contribute in these significant ways to organizations that play a vital role in our community. So many community organizations are fully reenergized after the pressures of the pandemic and are enthusiastically envisioning the future. We believe in the power of collaboration and are excited to work alongside our community partners toward these shared goals."
These donations exemplify the college's commitment to fostering inclusivity, supporting essential services, and enhancing the arts and downtown vitality. Grinnell College is honored to support these organizations and initiatives and remains committed to fostering a vibrant and inclusive community in Grinnell.