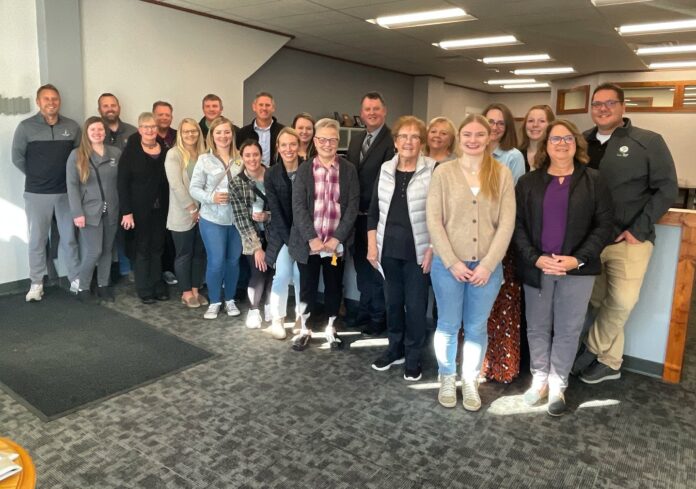 Ambassadors had the chance to meet the interim
Grinnell-Newburg Community Schools
Superintendent, Steven Barber. Barber shared more about his background in education in districts across Iowa and Minnesota before taking the position here in Grinnell. Barber is passionate about public education and all the opportunities it provides. He shared more about implementing new math curriculum in the elementary schools, working in the middle school and high school to close the gap on special education and meet all students where they're at and about the repairs being made at the schools after the May hailstorm.
Barber also discussed the upcoming vote to renew the Physical Plant and Equipment Levy (PPEL) this November. The PPEL has been in place since 1997 and was approved before that as a "school house tax". Renewal of this level would allow the district to be authorized to continue the levy for 10 years. Voter-approved PPEL provides just over $500,000 annually and is used for things such as transportation, sports and music equipment, grounds expenses, building improvements and more. Barber will host two informational sessions, Monday, Oct 23 and Wednesday, Nov 1 from 6-6:30 PM at Drake Community Library for folks interested in learning more. You can also find more details on the district website:
https://www.grinnell-k12.org/…/display.v/ART/65021af0a09ae
We wrapped up the visit by learning more about the substitute teacher and paraeducator shortage in the district. It's critical to have subs available so teachers and paras can have time off. Substitute teachers to require a certificate from the state but subs for paraeducators do not. If you're interested in learning more about becoming a sub, reach out to the district office at 641-236-2700.
Pictured L-R: Shane Hart –
Grinnell College Golf Course
, Briana Gaunt –
Community 1st Credit Union
, Charlie Isaacs –
Theisen's
, Donnette Ellis –
Grinnell College Community Connections
, Jeff Finch –
Wes Finch Auto Plaza
,
Whitney Bair Crawford, Agent with New York Life
, Trent Arment –
MCG – Mahaska Communication Group
, Ashley Pool –
Iowa Valley Community College Grinnell
, Phil Grout –
Hy-Vee
, Hannah O'Polka –
Cleanfoodfix Wellness Studio
, Rachel Arseneault –
Timm Agency, LLC-American Family Insurance
, Rachel Hansen – Cleanfoodfix Wellness Studion, Fran Conn, Superintendent Steven Barber, Dorothy Spriggs –
Carriage House Bed & Breakfast
, Cassie Wheery –
Pioneer Bookshop, Grinnell College
, Marissa Pronschinske – Grinnell Chamber, Rachael Kinnick – Grinnell Chamber, Ashley Symbol –
First State Bank
, Lisa Cirks –
Cirks Financial Services
, Brad German –
GreenState Credit Union
.