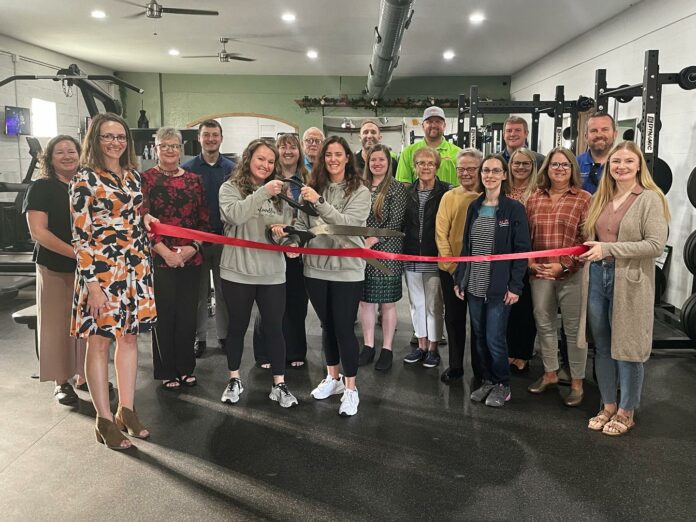 Ambassadors welcomed new business and new member
Cleanfoodfix Wellness Studio
this morning with a ribbon cutting. Owners Rachel Hansen and Hannah O'Polka shared more about their health and wellness journey that led them to start the studio, gave a tour of the facility, and shared information about membership and services.
Rachel and Hannah have a combined 24 years of health care service and nearly 10 years of nutritional and fitness coaching. They are both passionate about preventative medicine and helping people but also want to flip the script on what it means to eat well and maintain a healthy lifestyle. As Hannah mentioned, "it's not a lifestyle without the life part". Their goal is to meet their members where they are at in their wellness journey. Their nutritional and training philosophy focuses on what's right for the season of life their clients are in and making sure everything is in balance.
The studio hosts a number of machines, from treadmills to stair climbers to weight machines. They also have a wide selection of free weights and with guides and signs of how to use the equipment. They have a studio space for independent video workouts and group classes (currently offering step aerobics and bootcamps with a pound class and more coming soon). Members also get access to a massage chair and a sauna with light therapy options.
Membership to the studio is a monthly commitment and starts at $45 per month with the opportunity to add additional family members for $25. This gets members access to all the equipment and access to the facility. Membership + classes is $70 per month and they do offer a healthcare and military discount. They have additional private training and nutritional consultations available as well. To learn more about the studio, visit their website at
www.cleanfoodfix.com
, email cleanfoodfix@gmail.com, call (641) 990-7016 or stop by during their staffed hours (listed on their website and facebook page).
Pictured L-R: Monica St. Angelo –
Grinnell Area Arts Council
, Rachael Kinnick – Grinnell Chamber, Donnette Ellis –
Grinnell College Community Connections
, Nathan Beck –
Community 1st Credit Union
, Rachel Hansen – Cleanfoodfix Wellness Studio, Megan Kreigel –
Edward Jones – Financial Advisor: Hannah Wilson
, Jack Mathews –
Our Grinnell
, Hannah O'Polka – Cleanfoodfix Wellness Studio, Matt Moyer – Bayer Crop Science, Briana Gaunt –
Community 1st Credit Union
, Dorothy Spriggs –
Carriage House Bed & Breakfast
, Chris Meyer –
Servpro of Grinnell & Pella
, Fran Conn, Jess Dawson –
REMAX Partners Realty- Grinnell
, Trent Arment –
MCG – Mahaska Communication Group
,
Whitney Bair Crawford, Agent with New York Life
, Lisa Cirks –
Cirks Financial Services
, Charlies Isaacs –
Theisen's
, Marissa Pronschinske – Grinnell Chamber