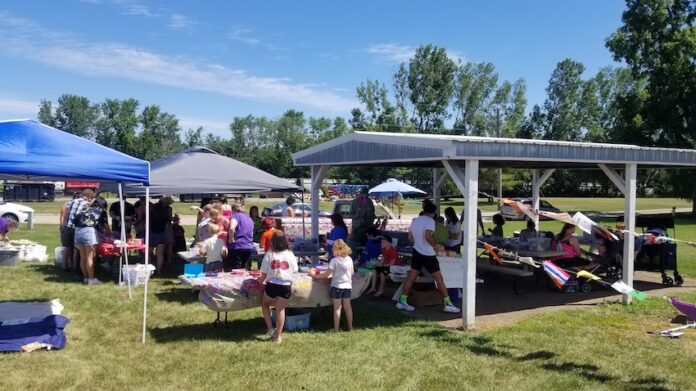 CHICAGO — The Association for Library Service to Children (ALSC) has awarded the 2023 ALSC/Baker & Taylor Summer Reading Program Grant to Drake Community Library in Grinnell, Iowa.
This grant is designed to encourage outstanding summer reading programs by providing financial assistance, while recognizing ALSC members for outstanding program development. The program must be open to all children from birth to age 14. The grant encourages summer programming that provides for inclusion of children with physical and mental disabilities. This $3,000 grant is made possible by Baker & Taylor, a leading distributor of books, videos, and music products to libraries, institutions and retailers.
Drake Community Library serves a community of more than 9,000 residents. Nearly 34% of school age children are eligible for free or reduced-price lunch. Many of the children who rely on these meals at school face food insecurity challenges over the summer months. Funding from the Baker & Taylor Summer Reading Grant will allow Drake Community Library to bring comprehensive literacy opportunities to children and families through their inclusive summer reading program format and outreach programs like Storytime Art in the Park, In Your Neighborhood, and visits to the Grinnell Area Summer Camp and other organizations. Grant funding will also be used to increase food access for families.
"The committee was impressed by the number and variety of community partners," said Stephie Luyt and Maren Ostergard, 2022-2023 Programs and Services Recognition committee co-chairs. "Funding from this grant will allow the library to bring innovative programs that combine literacy and art to a wider audience and to fight food insecurity by providing fresh food to area families."
"We're so pleased that this grant can go to support the initiatives of the librarians at Drake Community Library," said Bobbie Bensur, director of Children's and Teen Services (CATS) at Baker & Taylor. "It was clear from their summer reading programs proposal that they are not only passionate about building a love for reading and art, but also ways to make direct impact in the lives of their patrons. These type of community outcomes are exactly what we value at Baker & Taylor and CATS, and we are excited to see their programming unfold this summer."
ALSC, a division of the American Library Association, is the world's largest organization dedicated to the support and enhancement of library service to children. With a network of more than 4,000 children's and youth librarians, literature experts, publishers and educational faculty, ALSC is committed to creating a better future for children through libraries. To learn more, visit ALSC's website at www.ala.org/alsc.