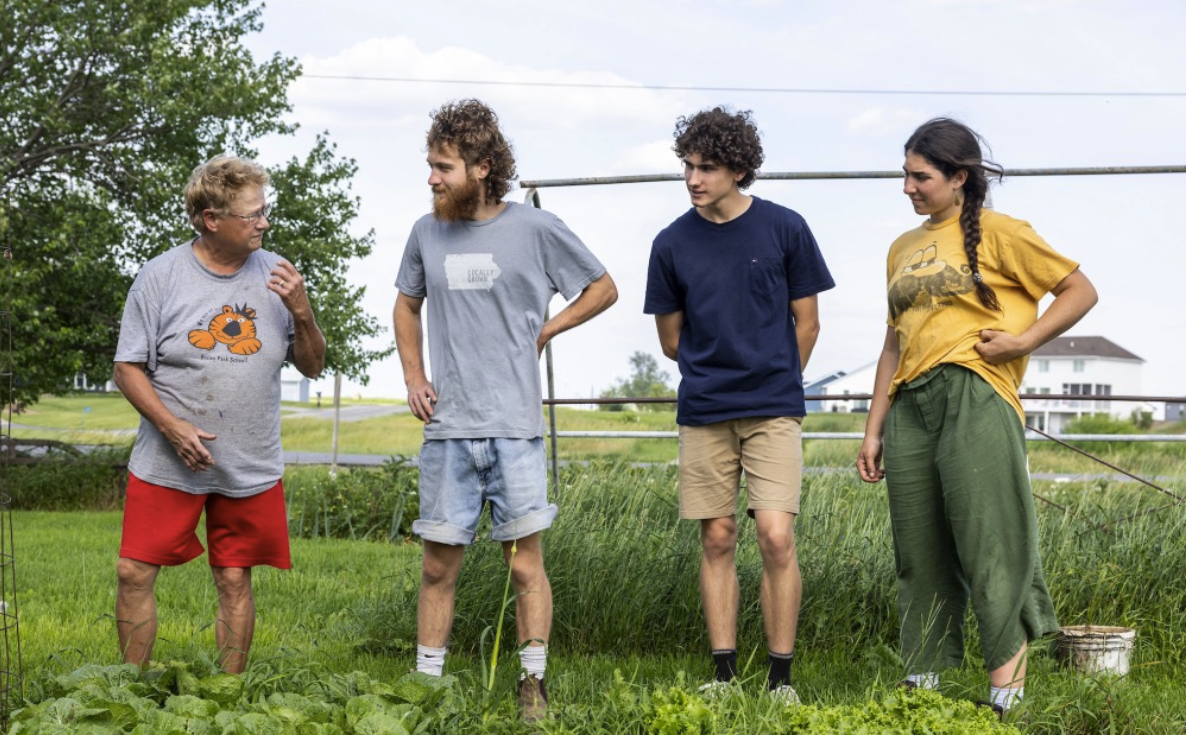 It is no secret that Iowa is known for its miles of cornfields and commercial agriculture. But behind the idyllic scenes of crop-covered flowing hills exists many small communities with meager food options. From supply chain issues to poverty, resources in rural communities can be scarce.
Addressing food insecurity
In 2020, the Grinnell Food Coalition was formed through the Claude W. and Dolly Ahrens Foundation to address food insecurity issues arising from the COVID-19 pandemic and compounded by the August 2020 derecho storm.
"The community immediately stepped up to financially support the coalition which allowed us to formulate a voucher program for recipients to obtain food from a variety of local grocers and producers," said Jennifer Cogley, Director of Partner Programs of the Claude W. and Dolly Ahrens Foundation. "It was amazing to see so many networks come together to make food-buying accessible."
A central resource of nutrient rich foods for voucher recipients is the Local Foods Connection.
Cultivating a local food network
The Local Foods Connection (LFC) moved to Grinnell in 2017 with a mission to "enhance Grinnell's sustainable food system by making it more accessible to families and individuals with limited means." Through community partnerships, LFC has made a significant impact on the local food system.
In 2020, Tommy Hexter '21 became the owner of Grinnell Farm to Table, an organization that allows the Grinnell community to support farmers by purchasing local, sustainably grown food online.
Originally, Grinnell Farm to Table offered a once monthly distribution from in-town locations such as the Drake Community Library. In the past six months, Grinnell Farm to Table and the Local Foods Connection (LFC) have merged and begun offering twice-monthly distributions available out of the organization's new hub located at 1032 Main Street.
"Iowa is such a rich agricultural state with such a deep food history," said Hexter. "Investing in the land, the labor, this space, and the policy and communications about Iowa-grown food for Iowans to eat will change the state of Iowa for the better."
Ann Brau, owner of Compass Plant CSA in Grinnell, shared, "Tommy has brought boundless energy to Local Foods Connection (LFC). In doing this he has been instrumental in expanding our reach by overseeing the joining of LFC with Grinnell Farm to Table. This synergy of systems allows for service of local food to all community members."
Protecting and advocating
In his role as soil and water commissioner, Hexter encourages conservation of Poweshiek County's natural resources through outreach to local farmers and other community members. In building these relationships, Hexter says compassion is key.
"I think creating relationships with farmers where we can say 'we support you and we'll buy products from you'… it's about building the bridges between the urban areas in Iowa and rural areas in Iowa," he said.
This attitude is also essential in Hexter's current full-time job as a rural organizer and educator for the Iowa Farmers Union – the oldest farm organization in the state. In this role, Hexter speaks with farmers and connects them with lawmakers in Des Moines and Washington, D.C., working to make farmers "succeed again."
"The choice for many people to live in small towns is kind of going away. Young people don't necessarily view small towns as an option," Hexter said. "But the beautiful thing about living in a small town, especially in rural areas, is the opportunity that you get to create your life."
To members of the community looking to get involved, Hexter urges them to explore the rural beauty of Poweshiek County.
"Spend more time outside of town, whether it be at the nature preserves, in the creeks and up in the trees, or biking to spend some time outside and start to develop your connection with this place beyond just town."
Students and community members interested in getting involved with Grinnell Farm to Table can email grinnellfarmtotable@gmail.com for more information. To learn more about the Grinnell Food Coalition or donate, visit the Claude W. and Dolly Ahrens Foundation website.