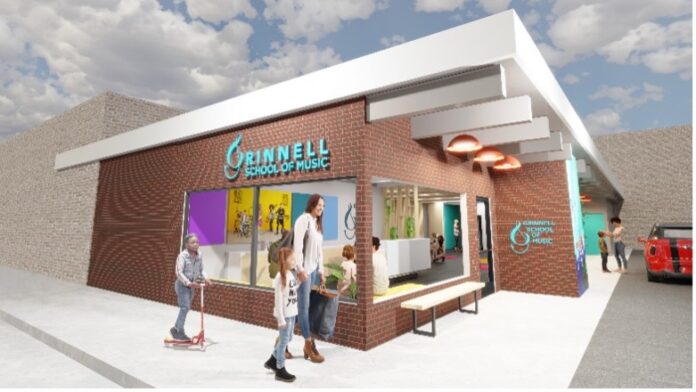 ————————————————————————————-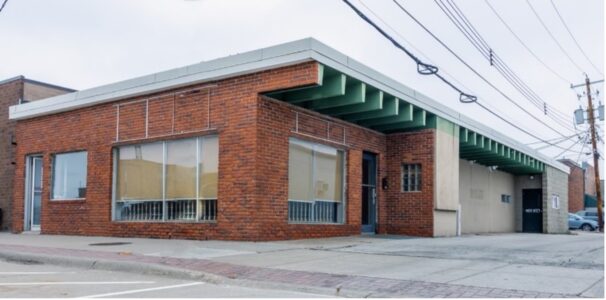 Above: 720 5th Avenue in March 2023 (photograph by Willis Inc. Photography)
Below: Artists rendering of the Grinnell School of Music redevelopment (illustration by Dan Clark, Generate Design)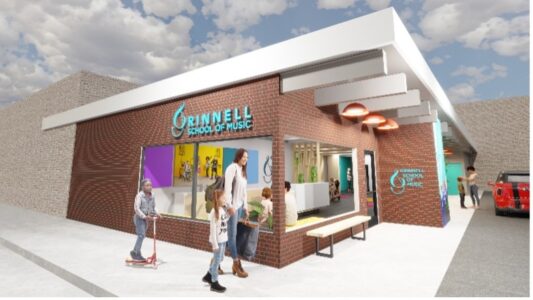 October 2, 2023 — The Iowa Economic Development Authority (IEDA) has awarded the City of Grinnell a Community Catalyst and Building Remediation Grant for the redevelopment of 720 5th Avenue, the future home of the Grinnell School of Music.
720 5th Avenue has been vacant since the closure of Michael's Restaurant in 2019. The Grinnell School of Music took possession in August 2022 and is on track to begin renovation this fall. In March 2023, the City of Grinnell announced its commitment to the project with a pledge of 20% of eligible rehabilitation costs to a maximum of $100,000. The IEDA Catalyst Grant matches the City's commitment, for a combined total of 40% (no more than $200,000) of eligible renovation costs. The Grinnell School of Music is responsible for the remainder.
The IEDA's Community Catalyst Building Remediation Program assists communities with the redevelopment or rehabilitation of buildings to stimulate economic growth or reinvestment in the community. "The IEDA recognizes that the arts can be a great vehicle for community development. Rehabbing a space for the arts improves a building and ensures economic vitality and neighborhood dynamism for the long-term," says Lesley Wright, Fundraising Chair and Secretary for the GSoM Board and President of the Iowa Cultural Coalition. "With these dollars from the City and State, we will keep construction dollars local, and create a dynamic space that serves a real local need."
The renovation will include a large multi-use classroom – the Marion Austin Jones Classroom, sponsored by Grinnell State Bank; three teaching studios, reception and work areas, and an exterior patio and waiting area, with a custom mural, sponsored by Grinnell College. 720 5th Avenue includes several other key features that led the Grinnell School of Music to secure it as its future home: it's accessible, close to downtown school district bus stops, and adjacent to a one-way alley for student drop-off.
"Director Durham and the IEDA have been a reliable partner for Grinnell on a wide range of community development projects," says Grinnell City Manager Russ Behrens. "This partnership along with private development has sustained and improved our entire downtown. The Grinnell School of Music touches on many of our priorities such as youth enrichment, downtown vibrancy especially after 5:00 p.m., support for retail, and building improvement."
"We are delighted to have the support of the IEDA and the City of Grinnell," says Erin Bustin, Executive Director. The Grinnell School of Music has been operating in the same space as its predecessor organization, Studio E, in a storefront on Broad Street, since 2021. "We love the space, but it's not big enough, and there is sound bleed between teaching studios and adjoining residential units. The new building will allow us to grow to meet demand and to offer a better range of services in a beautiful, customized, acoustically designed space."
The Grinnell School of Music publicly launched its $750,000 capital campaign earlier this spring. The campaign includes renovation costs as well as building purchase, project management, and a scholarship fund. "The support from the community, and now the State, is a testament to the transformative power of music and its role in building healthier, more vibrant communities. We are within sight of our goal, but we're not there yet!  I am confident that the community will continue to come together to make this a reality."
About Grinnell School of Music
The Grinnell School of Music is a vibrant community music school in Grinnell where children and adults access professional music instruction. With an emphasis on participatory, community music-making in addition to excellence in performance, the school provides music education and opportunities for recreational, competitive, and professional musicians alike, equipping students to become lifelong practitioners and performers.
The Grinnell School of Music is a 501(c)(3) designated charitable organization.