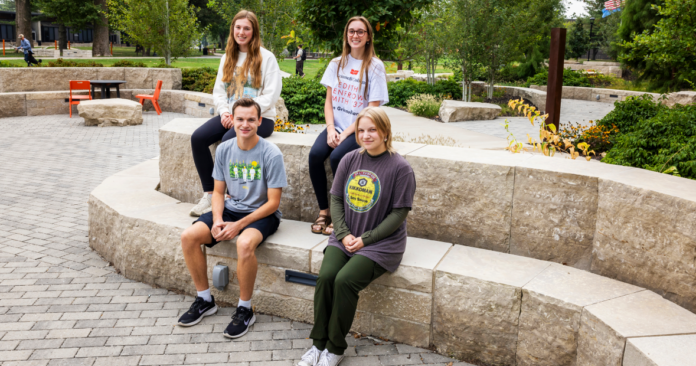 Walking through the town of
Grinnell
, the first slivers of Iowa you may notice are the open green pastures, the grazing cows, and the vast, growing corn stalks. As you enter the historic downtown, therein lies
The Strand
, a movie theatre with discount Tuesdays;
McNally's
, a bustling, locally owned grocery store; and several town-favorite spots, like the
Drake Community Library
, Frontier Café, and the popular
Saints Rest
. For those who have lived here for a substantial amount of time, however, Grinnell College is proving to be a new chapter of its own.
For Colton Benson '27, he found himself leaving Montezuma, Iowa, to live in Grinnell College's North Campus dorms. Montezuma, situated in Poweshiek County, is a 25-minute car ride from Grinnell. For college, Benson didn't intend to move so close to home, but Grinnell slowly crept up his college list as he learned about its open curriculum and remembered the town's avenues for fun. "A lot of kids [touring campus] would ask what there is to do in Grinnell," Benson recalls. "I always thought it was funny coming from Montezuma, a smaller town with 10% of Grinnell's population. There's a lot more to do in Grinnell than people realize, and it has everything you would need."
Once November rolled around, Benson submitted his application for Early Decision II. Now settled into his dorm in Clark, Benson has been learning about his peers' previous expectations of the town and uncovering their new-found appreciation. "In talking to some other people [from outside of Iowa], they're starting to realize that Grinnell, though different and missing some things they are used to, still has a lot of things they can enjoy. And I think many students are finding that they like the small-town feel of Grinnell, too."
Town Residents to Current Students
Though Benson is from the same county as Grinnell, there are three students who beat him for the "nearest resident to the College" title. Clare Barber '27, Bailey Strovers '27, and Ani Ford '27 all currently live in Grinnell, entering the college world with inquisitive and kind personalities.
Clare Barber '27
Barber, who was born in Des Moines, Iowa, moved away to Raleigh, North Carolina, for five years. Her family eventually moved back to Des Moines — and then Grinnell — for Clare's high school years. "I was used to bigger cities, but I've definitely acclimated [and] prefer it now," she says. Barber, who was not planning to stay in Iowa for college, attended a Grinnell summer program on campus for Computer Science. "I hated the coding," Clare recounts earnestly, "but I liked the campus, the food, and the Dining Hall. From then on, I wanted to go here. It was that simple."
Now that she is in what she refers to as an "Ivy League level school in the Midwest," Barber notes how great it is to be immersed in Grinnell's global community. "I've met people from all over, which is crazy. I got used to being in the small town of Grinnell, and so it's really a culture shock that this world was here the whole time." Her roommate, for example, is from South Korea, 6,488 miles from rural Grinnell. "It's [also] wild to hear people speak Chinese over here and French over there, in groups. I'm sad I can't be nosy," she laughs.
Bailey Strovers '27
Strovers, who walks her dog occasionally on Grinnell's campus, always felt comfortable growing up in Grinnell. "We lived in the country for the first five years before moving into the town. The community here has always felt supportive," she says.
Originally arranging to leave Grinnell for college, Strovers reconsidered her plans upon meeting the women's basketball team. "I was going to stay in Iowa, but I definitely wasn't going to Grinnell College," she recalls. "But then I visited the basketball team, did an open gym, and met with Coach [Dana] Harrold … I really liked her! That locked me in, and my parents were happy about that."
Her basketball community in Grinnell has introduced her to dedicated athletes from various parts of the country. She notes that her teammates are from Texas, Minnesota, California, and even Iowa City. "It almost feels like a different world here," she says, "but it's comfortable. [The comfort] draws people in." In Grinnell, Strovers highlights the delicious coffee at Saint's Rest and the supportiveness of her fellow town residents. "Iowa may seem like the middle of nowhere — and the weather is a little crazy," Strovers laughs, "— but it's a really good school. Everyone wants you to be here and supports you."
Ani Ford '27
Ford, another Grinnell native, considers applying early decision to be "the best decision" she's ever made in her academic career. "There has always been a strong sense of community for me in this town," she notes. "After being here for so long, I'll typically run into at least 3-5 people I know at the grocery store and have a brief conversation to catch up." Ford is particularly excited to stay in her hometown while having access to great classes, study abroad opportunities, talented professors, and powerful alumni connections.
Her family, aware of the College's rigorous and selective admissions process, was proud and excited for Ford upon her acceptance. "When I was accepted, it was a very emotional and exciting experience for my family and friends because of our history and connections to Grinnell College. Between the amazing opportunities the College offers and the friendly community of the town, the small and rural Grinnell, Iowa can provide a great future to those who choose to involve themselves."
As these four exceptional Poweshiek County students begin their college adventures, students across 40 states and 34 countries will join them in their classes and sports teams. Despite moving only a few miles – and even a few blocks – to enter Grinnell College's diverse and thoughtful student body, these four Grinnellians will go forth to develop an unwavering strength and commitment to not only their home communities, but to the world.