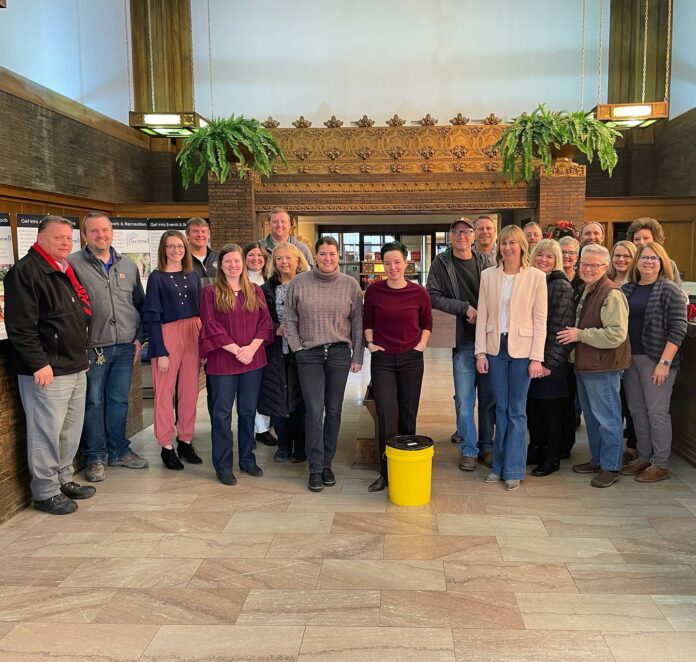 GRINNELL, IA – The Grinnell Area Chamber of Commerce and its Chamber Ambassadors group participated in the Build a Better Grinnell survey, visited with members and welcomed a new business to the chamber in January.
Ambassadors started off 2023 thinking about the future and took part in the Build a Better Grinnell 2030 Community Visioning Project surveying. Build A Better Grinnell is working to complete a community wide comprehensive vision for Grinnell. It's been 10 years since the last community-wide assessment and as the community evaluates how the world has changed post-pandemic, it's a great time to discuss strengths and opportunities for Grinnell. Ambassadors split into small groups and answered just a few of the questions on the survey. Great discussion was had about times Ambassadors felt connected to the community, new things they'd like to see added, and opportunities for change. The Chamber encourages all Grinnellians, businesses, organizations and the like to complete the survey. If you've already completed the survey in one setting (individually, at work, in a group, etc.) you can still take it in another! The great thing about this type of process is your answers may change or you make think of new things if you're in different settings with different people. Visit buildabettergrinnell.org to learn more about the project and take the survey.
The following week, Chamber Ambassadors got to learn the answer to "What are those yellow buckets?" after a visit with Imagine Grinnell Foundation's Plate to Plant program. Program Coordinator Bel Kugel talked about starting the program in 2020 with just 10 houses in hopes to redirect food waste from landfills and create compost.
The program features the yellow buckets, in which residents place their food scraps, pet hair, meat bones and more, that are picked up every Thursday by Kugel. Buckets are dumped in the program's composting bins at Marvin Garden. Each week nearly 1 ton of compost is collected from Grinnell houses. Buckets are then cleaned and a new one gets dropped off when your full one is picked up.
It takes about 1 year of "cooking" time to go from bucket scraps to usable soil. So far, the program has introduced 2.5-3 tons of composted soil to Giving Gardens. This year, they anticipate having 3x that amount which will be available to Giving Gardens, program
participants and the community. There are currently 50 households, Saints Rest and Sharp Barbering participating in the program.
Interested in signing up? Plate to Plant takes on new households/businesses twice a year and subscriptions will reopen in the summer. Visit ImagineGrinnell.org to learn more!
January is National Mentoring Month and Ambassadors celebrated with a visit from LINK Mentoring the fourth week in January. LINK Mentoring is Grinnell's version of Big Brothers, Big Sisters and works to match Grinnell students in Kindergarten through 4th grade with a mentor. Mentors come to school once a week over the student's lunch hour (between 11 & 1 depending on student's schedule) and spend one hour with their student doing an activity like playing board games, doing a craft activity, building with LEGOs or anything else. The program is not academic based, so don't worry about trying to remember 3rd grade math! The only goal is to provide the student with a positive and supportive experience at school.
LINK Mentoring currently has 8 students waiting for a mentor and more are likely to be added to the list this semester. They are particularly in need of male mentors. They ask for a one school year commitment from mentors and that you're able to consistently visit your mentee but you are able to reschedule weekly visits if you are out sick or on vacation. There is no cost to mentors or students to participate. If you or someone you know if interested in learning more, email Ashley at mentoring@linkgrinnell.org
If mentoring isn't your thing but bowling is, make sure to sign up for their annual bowling event to be held April 1 at Bowladrome here in Grinnell. Teams must be signed up by March 1 so t-shirts can be ordered. Email Ashley to learn more. All funds raised go to support the mentoring program throughout the school year!
For their last visit in January, Ambassadors welcomed new member Advantage Seamless Gutters Iowa to the chamber. Launched by owner Cory Jay after the 2008 ice storm, Advantage is headquartered in Minnesota but with offices in Adel, they're able to service the entire state of Iowa. Cody and Keith work with businesses and homeowners to determine what products and services would be the best fit. They offer full install or replacement of gutters, partial updates and fixes, gutter cleaning, gutter guard install and more. They work with some great suppliers and are able to offer 60 different colors and a number of styles to find the best fit for your home or building, no matter the design.
In 2022, they started their venture into exterior Christmas lights. Their commercial grade lights were even wind tested by being installed to a shed on the back of Cody's truck which was driven to Wisconsin and back. The lights held up in the high winds of the interstate with no problem.
One of their core business principles is giving back to their local communities. They partner with Habitat for Humanity in the metro and do all the gutter install on Habitat homes in the greater Des Moines market along with their other markets. They're excited to grow their business into the Grinnell market and look for additional ways to give back. If you're
interested in getting a free estimate or learning more, visit their website at advantageseamlessgutters.com or call 888-570-5778.
Chamber Ambassadors meet weekly on Tuesdays at 9:30AM. If your business is interested in joining the Chamber or having the Ambassadors visit, please call 641-236-6555 or email Kendra at kendra@getintogrinnell.com for more information.
The Grinnell Area Chamber of Commerce is an independent, 501©6 non-profit organization focused on the Grinnell community. The mission of the Grinnell Area Chamber of Commerce is to advance the economic development, vitality, and growth of the community. For more information on how to join the Chamber or get involved, please visit grinnellchamber.org or call 641-236-6555.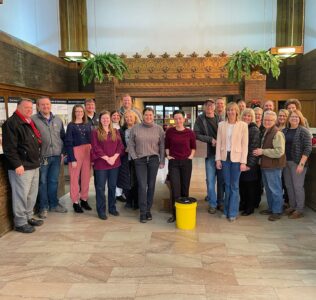 Imagine Grinnell's Plate to Plant Program: Pictured L-R: Jeff Finch – Wes Finch Auto Plaza, Charlie Isaacs – Theisen's Grinnell, Rachael Kinnick – Grinnell Chamber, Trent Arment – Mahaska Communication Group, Briana Gaunt – Community 1st Credit Union, Erin Bustin – Studio E Grinnell, Chris Meyers – Servpro of Ottumwa and Grinnell, Cassie Wherry – Pioneer Bookshop, Grinnell College, Katy Wells – Double You Marketing/Imagine Grinnell, Bel Kugel – Plant to Plant, Tim Ellsworth – Imagine Grinnell, Shane Hart – Grinnell College Golf Course, Jennifer Cogley – Imagine Girnnell/ Claude W. & Dolly Ahrens Foundation, Doug Schafer – Blue n Gold Merchant Services, Sarah Smith – Grinnell College, Donnette Ellis – Grinnell College, Matt Moyer – Bayer Crop Science, Fran Conn, Whitney Bair Crawford, Agent with New York Life, Jennifer McAlexander – JM Consulting/ Hawkeye Lock & Security, Lisa Cirks – Cirks Financial Services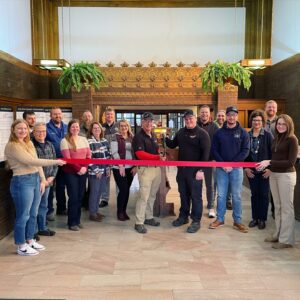 Advantage Seamless Gutters: Pictured L-R: Marissa Pronschinske – Grinnell Chamber, Fran Conn, Nathan Beck – Community 1st Credit Union, Charlie Issacs – Theisen's Grinnell, Briana Gaunt – C1CU Grinnell, Doug Schafer – Blue n Gold Merchant Services, Lisa Cirks – Cirks Financial Services, Trent Arment – Mahaska Communication Group, Whitney Bair Crawford, Agent with New York Life, Keith Jay & Cody Jay – Advantage Seamless Gutters, Shane Hart – Grinnell College Golf Course, Matt Moyer – Bayer Crop Science, Nick Darland – HomeRevisions, Jennifer McAlexander – Hawkeye Lock & Security & JM Consulting, Chris Meyer – Servpro of Ottumwa and Grinnell, Rachael Kinnick – Grinnell Chamber