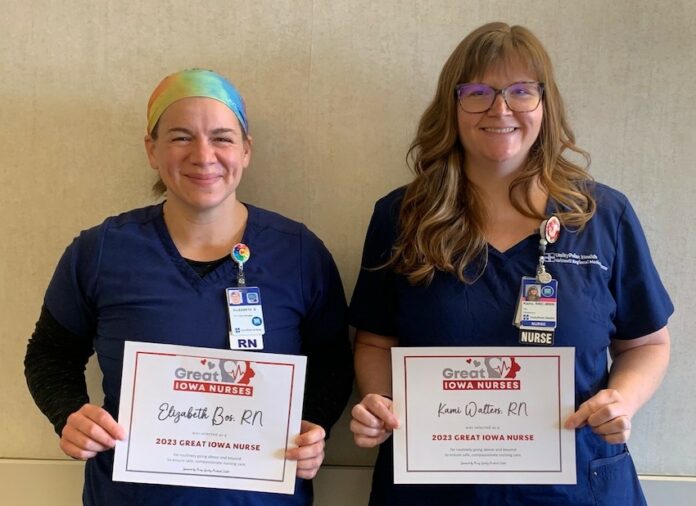 (GRINNELL, IA – January 31, 2023) UnityPoint Health® – Grinnell is honored to announce two nurses being named to the 2023 Great Iowa Nurses list. This prestigious award annually recognizes nurses at healthcare organizations across the state for their outstanding contributions to their patients, team members and the nursing profession.
This year's award-winning nurses in Grinnell are:
Elizabeth Bos, RN, at UnityPoint at Home
Kami Walters, RN, CLC, at UnityPoint Health – Grinnell Regional Medical Center (GRMC)
Elizabeth (Liz) Bos, RN, was nominated by the family of a pediatric patient whom she's cared for twice a week, for over a year. The family's nomination included a glimpse into their experience with Bos as their nurse. "Our child has been medically complex since birth and Liz has been there through many ups and downs, comforting us during surgeries and celebrating wins during physical therapy or while weening medications. Liz's level of care and compassion sets her apart from others. She's one of those nurses that you will never forget," the family shared. "We are forever grateful that Liz was brought into our lives and that we not only get to call her our child's 'favorite nurse,' but also a friend."
Bos has been a UnityPoint at Home Case Manager for four years and enjoys all aspects of her job. "I love the variety of people that I get to meet, from pediatrics to geriatrics. I give my best to my patients on a daily basis and it's humbling to know that my impact is significant for patients in their time of need," Bos says.
Our UnityPoint at Home team specializes in providing the care you need, at your home while you recover from a hospital visit or manage a chronic disease. For more information on home care services in Grinnell, call (515) 557-3100.
In March, Kami Walters, RN, CLC, will be celebrating her 10-year anniversary as an RN, including six years with Maternity Services at GRMC.
"Kami goes the extra mile for both her patients and her team. She demonstrated this last year by creating a new remembrance event in Grinnell for those who have experienced stillbirths, miscarriages or other types of infant loss," says Sheryl Baarda, RNC, obstetrics nurse manager at GRMC. "Kami also continuously champions breastfeeding. She puts in extra effort to help new moms successfully navigate their breastfeeding journey and she's a leader among her colleagues to increase knowledge of breastfeeding best practices."
"Helping families bring new life into the world is absolutely priceless. You can't describe the joy on a parent's face when they see their newborn for the first time or after their first successful breastfeeding session," says Walters. "Every day is a new adventure. I hope to continue learning and providing the best care for my patients that I possibly can."
To learn more about our maternity services or breastfeeding education, visit unitypoint.org/grinnell/maternity.
UnityPoint Health celebrates a total of 50 nurses named to the 2023 Great Iowa Nurses list across all UnityPoint Health locations in Iowa.
"I'm inspired by and extremely proud of all our nurse honorees this year," said UnityPoint Health Chief Nursing Officer and Senior Vice President D'Andre Carpenter. "Their skill and passion for nursing shows in the high-quality, compassionate care they provide every day to our patients and communities. Each one of these nurses is deserving of this recognition, and it's a privilege to have them represent the exceptional hospital, clinic and home care nursing teams at UnityPoint Health."
Award recipients will be honored during a virtual ceremony in February. For more information, visit greatiowanurses.org.
For individuals interested in joining our team, search the career page on our website: unitypoint.org/joinourteam.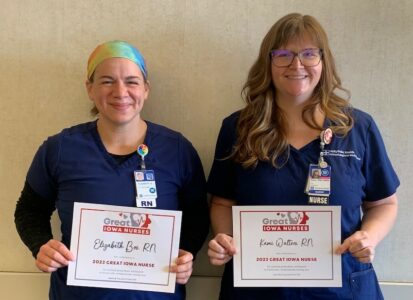 Photo Cutline: UnityPoint Health – Grinnell Great Iowa Nurse Award Winners
Pictured L to R: Elizabeth Bos, RN, and Kami Walters, RN, CLC