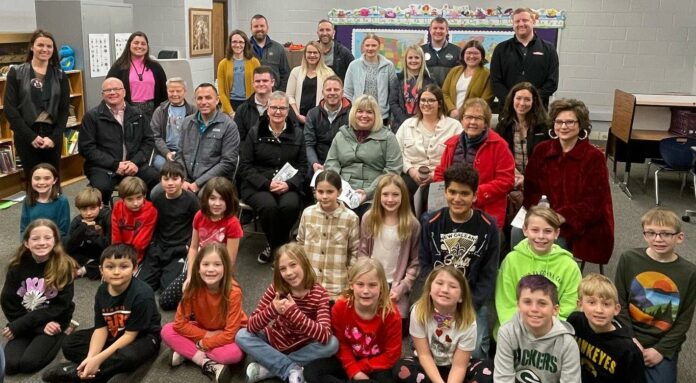 Ambassadors loved visiting with
Davis Elementary
students today. We learned about their student-led food drive they've been hosting as part of a service-based learning project. After discussing and researching many community initiatives, the students decided to focus on hunger. They learned the difference between hunger and being hungry, how our local food pantry operates, how transportation issues play into food access, how to create and work in committees and skills like phone etiquette, website design, flyer and script creation, how to do media interviews and more. They set up 4 different committees including: Hy-Vee Committee, Community Committee, Media Committee, and Davis Committee. They learned from community partners like MICA, Grinnell College,
Grinnell Food Coalitio
n,
The Iowa Kitche
n, and Tiger Packs.
The students set a goal to collect 500 food items to collect and donate to MICA over the course of the nearly month long project. They have collection boxes at Davis,
Grinnell-Newburg Community Schools
,
Drake Community Library
, Chamber office, GARC,
Grinnell Mutual
,
Pioneer Bookshop, Grinnell College
, and Hy-Vee – Grinnell. To date, they've collected over 1,800 items at Davis alone! Any monetary donations will be used for a shopping trip to HyVee for additional items to donate to MICA.
The drive ends this Friday. You can drop off items at any of the above mentioned locations, the Chamber office is open until 4:30 PM each night this week. Learn more about the project by visiting their website.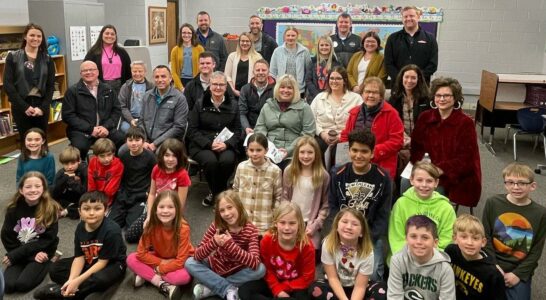 Pictured L-R, front to back:
Seated: Davis Elementary students
Front: April Gosslink-Lemke – Project Coordinator, Mike Olson –
Lincoln Savings Bank
, Reagan Mackie – 4th Grade Teacher, Fran Conn, Ryan Timm –
Timm Agency, LLC-American Family Insurance
, David Miller –
Hy-Vee
, Donnette Ellis –
Grinnell College Community Connections
, Shane Hart –
Grinnell College Golf Course
, Sarah Smith –
Grinnell College
, Lindsey Altenhofen –
Grinnell United Church of Christ
, Dorothy Spriggs –
Carriage House Bed & Breakfast
, Mary Lindberg –
Cirks Financial Services
, Jennifer McAlexander –
JM Consulting
&
Hawkeye Lock & Security
Back: Rachael Kinnick – Grinnell Chamber, Charlie Issacs –
Theisen's
,
Whitney Bair Crawford, Agent with New York Life
, Matt Moyer – Bayer Crop Science, Marissa Pronschinske – Grinnell Chamber,
Hannah Warnell, Iowa Realty
, Trent Arment –
MCG – Mahaska Communication Group
, Erin Bustin –
Studio E Grinnell
, Chris Meyer –
Servpro of Ottumwa and Grinnell