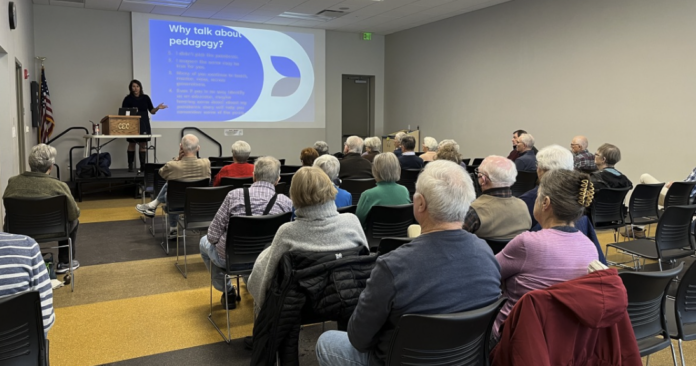 While Grinnell College is often regarded as the community's hub of cutting-edge research and teaching, there exists a second location where expert academics gather to teach one-of-a-kind courses – and they do so completely free of charge.
The Community Education Cooperative's Bucket Courses are weekly, 90-minute classes taught by Grinnell College faculty members at the Drake Community Library. These courses are free, open to the Grinnell community, and have one fundamental goal: to teach "everything you need to know before you kick the bucket."
"Courses generally cover a different topic each week ranging from writing to relationships. Recent installations included "What is Writing For?" by Tisha Turk, Director of Academic Support for Writing & Speaking, and "Teaching In a Pandemic: A Pedagogy of Trust" by Professor Karla Erickson, sociology.
Occasionally, faculty members will teach multi-part series on a single topic. On February 15 and 22, Liz Queathem will present "What Do We Really Owe the Future? Nature, Community, and the Climate Emergency"
The Bucket Courses began in 2009 as a flagship program of the Grinnell Community Education Cooperative – a collaboration among multiple area educational institutions to provide accessible community learning opportunities. The cooperative has had ties to the College since its conception; Grinnell College alumna Joanne Bunge '56founded the courses and chaired the CEC until 2016.
"It started as just some retired people in town really wanting to know stuff," said Judy Hunter, current chair of the Bucket Course planning committee and former Writing Lab director.
In its first years, the Bucket Courses charged attendees and required pre-registration. Making the courses free is one of the ways that Hunter hopes the program can become more broadly available.
"In the future I'd like to… keep removing those barriers to access. I would love it if people with economic challenges were able to come in and learn when they haven't had opportunities before – that would make me really happy," she said.
So far, these efforts have been extremely successful. On the Bucket Courses' YouTube channel, where previous classes have been recorded, attendees can be seen packing the library's Caulkins Community Room and actively engaging with the course content.
According to Hunter, the courses' impact is so profound that they have become a selling point for retirees looking to move to Grinnell, and educational institutions across Iowa are taking inspiration.
"A number of college and universities are implementing similar programs and I think it is because they're discovering that, for alums particularly but just for the community, people just love it."
The Bucket Course committee has a rich semester of content planned for the program, with classes to continue on Wednesdays through the end of the semester. Upcoming topics include climate change and agriculture, with specific speakers and course titles to be announced on the Bucket Course website.
While the name may suggest an emphasis on retirees, Bucket Course organizers welcome anyone in Grinnell who wants to learn – even students at the College. It's a great opportunity to meet new people with similar interests. For community members considering attending a future bucket course, Hunter's pitch is short and sweet:
"You learn a lot, and there are cookies!"