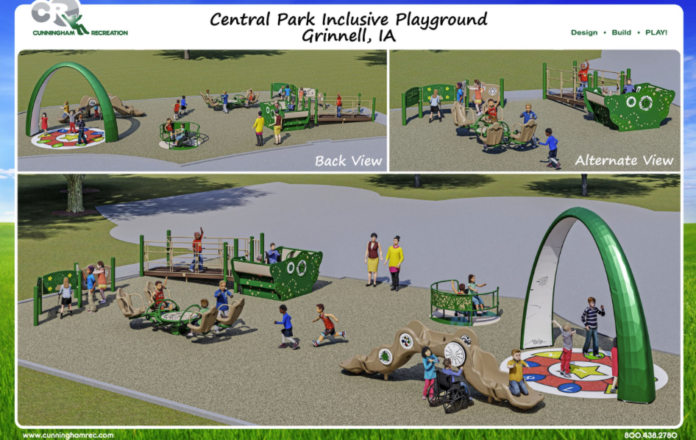 Central Park All-Inclusive Playground Receives Gift
The Central Park All-Inclusive Playground Project has received a gift of $30,000 from Grinnell College towards the Grinnell Mutual Group (GMG) Challenge Grant leaving only $10,000 to match the challenge.
The gracious gift from Grinnell College closes the gap to $30,000 of the playground project's goal of $300,000 in total. If that amount is secured prior to the end of November, it could mean groundbreaking for the project in early spring of 2024 with the playground set to open by Memorial Day weekend of 2024. This gift further encourages others to contribute to this initiative for a playground where all children, regardless of ability, can play and learn together in the same space.
The Central Park All-Inclusive Playground Project will extend south of the existing playground. It is a goal of the project to allow all children access to the play equipment without a parent/guardian being required to help them. The Yalp Sona Arch feature, only the third of its kind in Iowa, allows mobile app users to play various games to improve motor and cognitive skills. This exciting feature is one of six new features with sensory-rich components within the proposed design. Monica Chavez-Silva, Grinnell College vice president of community engagement and strategic planning, shares "Grinnell College appreciates the commitment from the Parks & Recreation Board to making sure that kids of all different abilities can experience the playground and feel welcome in Grinnell. It's important work and we're glad to be able to join Grinnell Mutual with our support."
To learn more about the Central Park All-Inclusive Playground or donate, please contact Grinnell Parks & Recreation Director, Jordan Allsup, at 641-236-2620 or jallsup@grinnelliowa.gov.
Gifts can be sent to the Greater Poweshiek Community Foundation with Central Park Playground in the check memo line. P.O. Box 344, 1510 Penrose Street Grinnell, IA 50112.