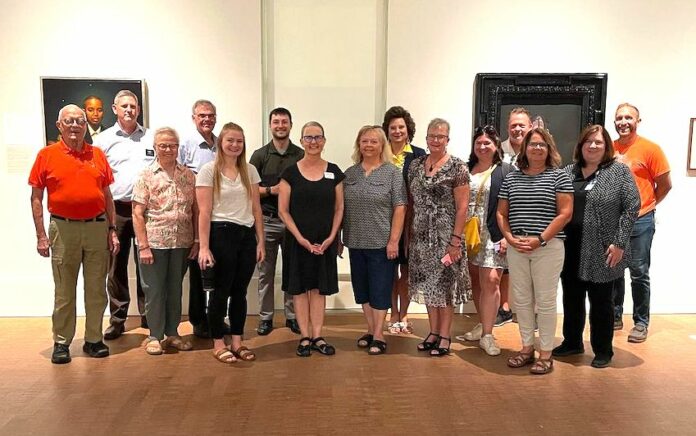 Ambassadors visited
Grinnell College Museum of Art
this week to learn more about their current exhibit, "Sustaining Vision". This exhibit features some of the recent acquisitions to the Museum of Art collection.
Museum director Susan Baley explained that the Museum focuses its collection on items that support the curriculum of the campus and the students. The Museum works directly with professors to determine what items in the current collection can be used in coursework or if there are other items that could be added to benefit future classes. Items are then purchased with funds specifically designated to curating exhibits or are donated to the school. Burling Library holds the Museum's collection when it's not on display.
Over the last few years, the Museum has focused on expanding its collection of indigenous and women arts. Their current exhibit features a number of artists in those realms including a recent addition from Jaune Quick-to-See Smith (photo 2). In addition to seeing these works in the museum, you can see commentary on these works made by children in this year's summer programming.
The museum is open Tuesday – Friday 11 AM – 5:30 PM, and Saturday 12 – 5 PM. "Sustaining Vision" is open through August 27.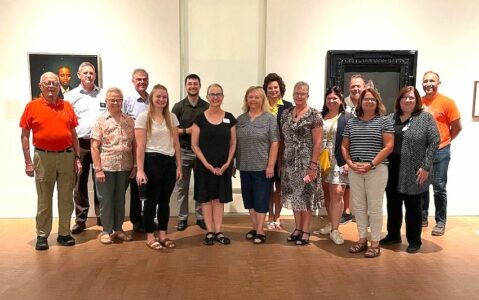 Pictured L-R: Jack Mathews –
Our Grinnell
, Phil Grout –
Hy-Vee
, Fran Conn, Andy Schwandt – OnMedia, Marissa Pronschinske – Grinnell Chamber, Nathan Beck –
Community 1st Credit Union
, Susan Baley – GCMoA, Cassie Wherry –
Pioneer Bookshop, Grinnell College
, Jennifer McAlexander –
JM Consulting
&
Hawkeye Lock & Security
, Donnette Ellis –
Grinnell College Community Connections
, Erin Bustin –
Grinnell School of Music
, Jeff Finch –
Wes Finch Auto Plaza
, Lisa Cirks –
Cirks Financial Services
, Donna Fischer –
UnityPoint Health – Grinnell Regional Medical Center
, Matt Moyer – Bayer Crop Science