Women's a cappella group to host inspiring holiday concert in Grinnell!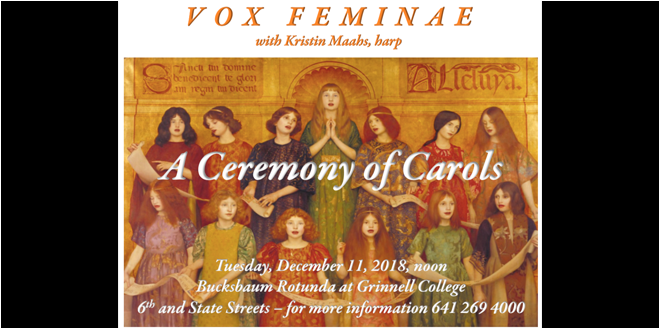 GRINNELL, IOWA – What began over a year ago as a means of self-care in the midst of stressful times has now blossomed into something worth sharing with the public.  Vox Feminae, which is comprised of music professors, professional musicians, and those with a history of performance, is a women's a cappella group that meets in Grinnell every Tuesday over the lunch hour.
On Tuesday, December 11, 2018 from 12:00 to 1:00, Vox Feminae will perform "A Ceremony of Carols" for the public in Bucksbaum Rotunda at Grinnell College (1101 Park Street, Grinnell), featuring harpist Kristin Maahs, which will conclude with the singing of some traditional holiday hymns and songs.  For more information on this free event, please visit the Facebook event page titled "A Ceremony of Carols, by Vox Feminae" or call (641) 269-4000.