Relay For Life of Poweshiek County Volunteers Receive Honors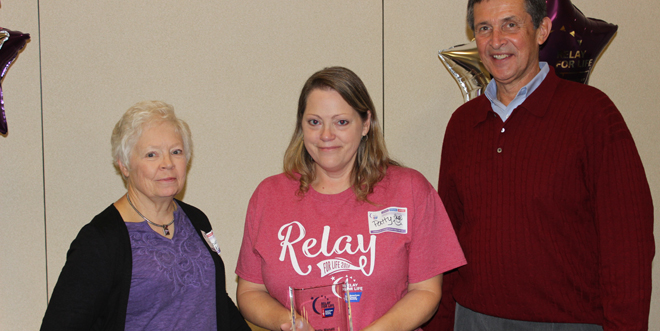 American Cancer Society Relay For Life of Poweshiek County volunteers received awards on October 13thduring a Relay For Life conference for the eastern half of Iowa in Waverly.
Patty Manatt was awarded the Volunteer of the Year which is awarded to an outstanding individual for their dedication and commitment to forwarding the Society's lifesaving mission. Sarah Foster, American Cancer Society Community Manager says, "Patty is a woman with fierce determination, creative talent and a kind heart. She took on the task of refreshing the Relay For Life of Poweshiek County by partnering with the Grinnell Chamber of Commerce Friday Night Live event.  She secured sponsors, encouraged the teams to fundraise, recruited additional people to help, and is also a successful team captain. Patty is an example of an outstanding volunteer who dedicates their time and commitment to supporting the American Cancer Society's lifesaving mission and her community!"
Patty accepted an award on behalf of Team JELD-WEN. Team JELD-WEN of Grinnell in Poweshiek County has been a long time fundraising team. Their fearless team captain & RFL committee volunteer, Sherry Thompson, passed away this year and the team dedicated this year to her. She gave with her whole heart and they do the same. Their team is made up of dedicated volunteers who host multiple fundraisers including wonderful scrapbook weekends and a successful golf tournament resulting in raising over $17,000 in 2018.
This year, an estimated 1.3 million people in the U.S. participated in more than 2,000 events to help the American Cancer Society attack cancer in dozens of ways, each of them critical to achieving a world without cancer – from developing breakthrough therapies to building supportive communities, from providing empowering resources to deploying activists to raise awareness. Funds raised support the American Cancer Society 24/7 cancer help line, patient services, and cancer research. By joining the Relay For Life event, you can help attack cancer from every angle.
While great progress has been made in the fight against cancer, there is still much more to be done, which is why Poweshiek County is joining together for the 2019 American Cancer Society Relay For Life. The event will take place on July 5th at Grinnell Central Park with Grinnell Chamber of Commerce Friday Night Live. For more information, visit www.relayforlife.org/poweshiekcountyia.