Wes Finch Auto Plaza Donates $1,000 to Wartburg College Dance Marathon!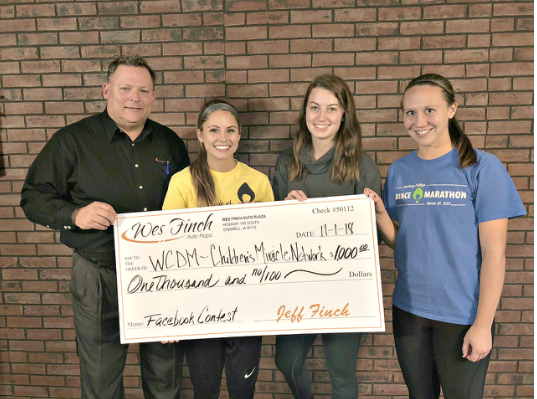 Jeff Finch, owner-operator of Wes Finch Auto Plaza in Grinnell, recently presented a $1,000 check to the winners of the dealership's October Facebook contest, Wartburg College Dance Marathon.  Voting took place in October, and the winner was announced on November 1st. The organization did a wonderful job of engaging their Facebook followers, and led every week of the voting! Pictured above accepting the check from Mr. Finch are the executive committee of Wartburg College Dance Marathon; Morgan Finch, Kayla Johnston and Nicole Adair, all seniors at the college.
Wartburg College Dance Marathon's mission is to support, promote, and celebrate the lives of the children at our local Children's Miracle Network Hospital, the University of Iowa Stead Family Children's Hospital in Iowa City, Iowa, through year-long fundraising and social activities organized by the organization. Wartburg College Dance Marathon supports the families and children who are battling pediatric illnesses and injuries throughout Iowa.
During this competition, 10 community-focused organizations participated. Supporters were encouraged to "like" the logo of one of the eligible organizations pictured on the Wes Finch Auto Plaza Facebook page. At the end of the voting period, the organization with the most votes ("likes") received the $1,000 donation.
This contest has continued for over four years now.  Wes Finch Auto Plaza has been able to donate almost $15,000 to local, worthwhile nonprofits and charitable entities. The contest happens every 3-4 months, and is a month-long competition with approximately 10-15 local organizations participating each time.