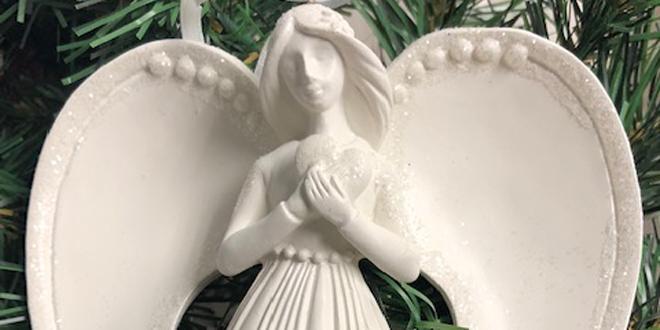 GRMC Auxiliary Tree Ornaments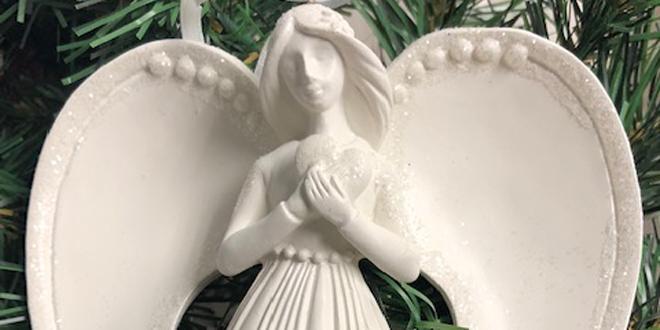 It's the beginning of the holiday season and the UnityPoint Health – Grinnell Regional Medical Center Auxiliary will continue its tradition of decorating a tree in the medical center with angels for everyone to enjoy. This project is a way to honor or remember a loved one through the purchase of an angel ornament for the tree.
The GRMC Auxiliary has already begun selling the ornaments in The Glass Gift Box at GRMC. This year, the ceramic ornament features an angel with wings forming the shape of a heart. Ornaments will be available for purchase, while supplies last, at The Glass Gift Box until December 21 and are $10 each.
 After Thanksgiving and throughout the holiday season, angel ornaments remain on a tree in the admissions department of the hospital until Friday, Dec. 14. At that time, the ornaments may be picked up and taken home by the person who purchased the ornament or given to the honoree to decorate their personal tree at home. The tree will remain on display until after Monday, Dec. 25.
Funds raised will go toward the auxiliary's mission to promote and assist GRMC in providing education and health care services in the area. To purchase an angel and support the work of the GRMC Auxiliary, stop by the GRMC Auxiliary's gift shop, The Glass Gift Box. For more information, contact Cara Kenkel at 641-236-2522.