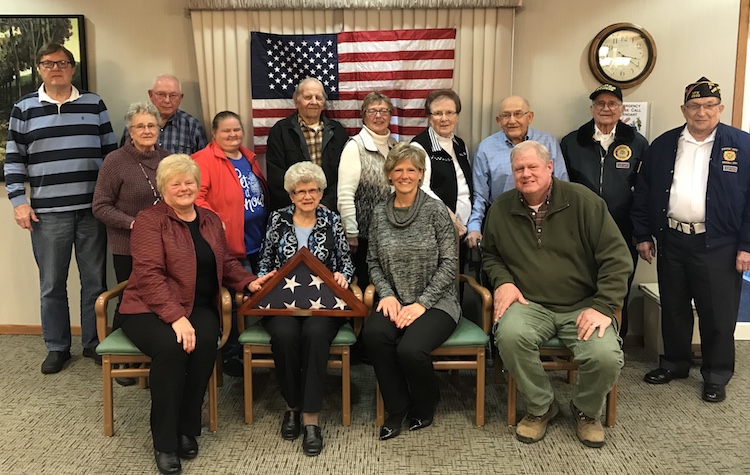 A Veterans Remembrance Program was hosted by St. Francis Manor on Thursday, November 7, to honor local veterans. St. Francis Manor, Hammond Center and Seeland Park residents as well as veterans from the Grinnell community attended the program presented by Activity Directors Caitlin Mellick and Abby Moyer and included guest speaker retired Air Force Lieutenant Colonel Gwen Rieck who shared about her 22 years of active service as an OB and chief nurse.
The Grinnell Ceremonial Unit represented by George Fowler and Ed Adkins presented a flag to the Floyd Heishman family in honor of Floyd's service during World War II with the U.S. Army. Floyd was stationed in Hawaii and the Philippines before being honorably discharged on September 1, 1946. Floyd was a resident of St. Francis Manor at the time of his passing on November 6, 2018. The flag was received by his wife, Janyce Heishman, daughters Susan Heise from Texas and Shirley Laraway from Minnesota, son Larry Heishman and grandsons Jim Heishman and Andy Heishman all of Malcom.
Pianist Barb Tininenko played the official anthem for each branch of the armed services while attendees stood in recognition of the branch in which they or a loved one had served. The program also included reciting of the Pledge of Allegiance, singing of the "Star Spangled Banner" and playing of "Taps" by American Legion representative George Fowler while attendees paused for a moment of silence in honor of Floyd and other veterans. Those in attendance enjoyed light hors d'oeuvres and beverages provided by the Culinary Department before the program.
For more information about St. Francis Manor's Life Plan Community, visit www.stfrancismanor.com or call (641) 236-7592.