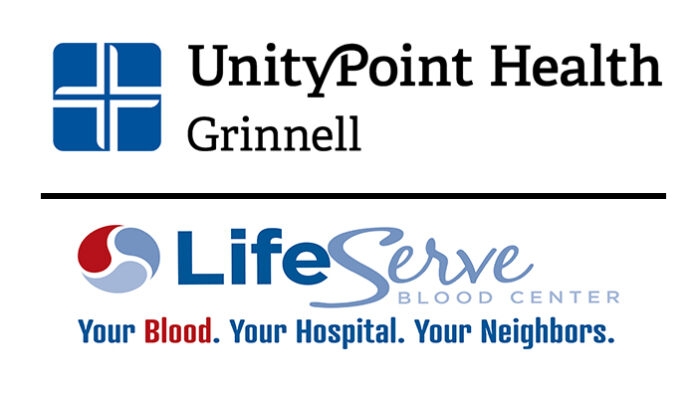 Donate today to save lives.
(GRINNELL, Iowa – August 8, 2023) – UnityPoint Health® – Grinnell Regional Medical Center (GRMC) is partnering with LifeServe Blood Center to host a mobile blood drive on Wednesday, August 30, from 11 a.m. to 3 p.m. The LifeServe Bloodmobile will be parked in GRMC's northeast employee parking lot at the corner of 4th Ave. and Reed St. in Grinnell. Blood donors will need to enter from Reed St. due to road construction on 4th Ave. To schedule an appointment to donate, please visit https://donor.lifeservebloodcenter.org/donor/schedules/drive_schedule/182591.

Blood donation with LifeServe is a quick and painless process. The entire donation experience only takes about an hour. LifeServe also shares the following perks of giving blood.
Save lives – one pint of whole, donated blood can save up to three lives.
Mini physical – donors can find out their blood type, blood pressure, pulse, temperature and hemoglobin (iron) levels.
Oil change – the body replaces donated blood with fresh blood; consider a blood donation as an oil change for your body.
All donors should be in overall good health and are encouraged to be rested and well-nourished at the time of donation.
Appointments are highly encouraged.
Blood donors should pre-screen themselves for fever prior to donation appointments.
Donors must be at least 16 years or older. If first time donors are 16 or 17 years old they must have a signed LifeServe Blood Center parent/guardian permission form.
For additional information about LifeServe Blood Centers and donor eligibility, please visit www.lifeservebloodcenter.org.
###
About UnityPoint Health – Grinnell
UnityPoint Health® – Grinnell is a nonprofit and non-tax supported rural health care provider serving more than 40,000 residents in a six-county rural area of east central Iowa. UnityPoint Health – Grinnell includes Grinnell Regional Medical Center -a 49-bed hospital- as well as the Manatt Walk-In Clinic, Grinnell Family Practice, Montezuma Medical Clinic, Public Health, UnityPoint at Home and UnityPoint Hospice. It is comprised of 50 physicians and allied health care professionals who provide an array of services from birth to end-of-life. Specialties include bariatric surgery; emergency medicine; family medicine; general surgery; internal medicine; obstetrics/gynecology; otolaryngology; pain management; pathology; pediatrics; podiatry; radiology; and geriatric medicine. Visiting specialists in more than 10 concentrations provide additional specialty care for area residents. For more information, visit unitypoint.org/Grinnell.