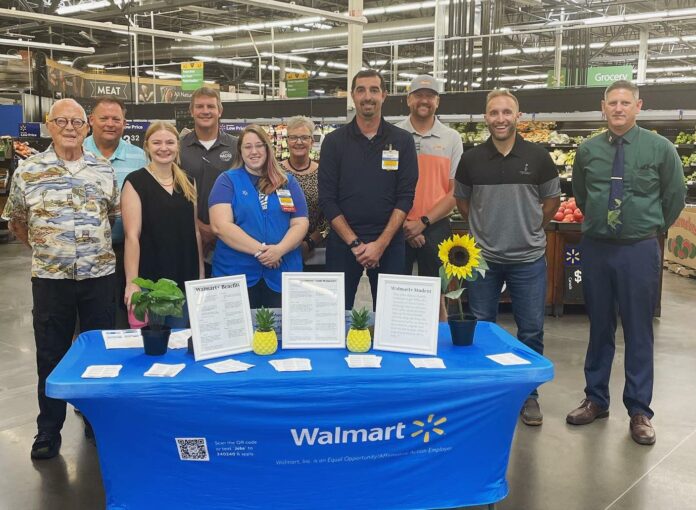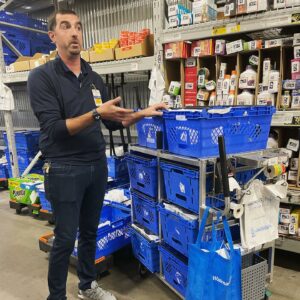 Ambassadors visited
Walmart Grinnell
and learned more about some of their services. Store manager Kody Bigelow and team lead Natalie shared more about the new delivery service, Walmart + and showed Ambassadors how team members pick orders for pickup and delivery.
Launched at the end of July, Walmart now offers delivery to Grinnell and the surrounding area. Customers are able to shop online or on the app and select delivery or pickup as an option. No products are excluded, everything from groceries, to clothes, to alcohol is available for delivery or pickup (though an ID does need to be checked for alcohol). Customers can pick up products between 7 AM – 10 PM and deliveries can be dropped off between 8 AM and 10 PM. Order a maximum of 7 days in advance or as little as 3 hours and 15 minutes!
We also learned more about the Walmart+ program. Members get access to a number of benefits including Paramount+ for free, SiriusXM free for 6 months, and discounts on fuel, Babbel, Panera and more. Benefits change every few months so members always have access to something new. Members have no minimum order amount for pickup or delivery and get early access to Black Friday sales. Walmart+ also offers members the ability to use the Walmart app for Scan & Go, allowing them to check out with their phone in any Walmart store.
Right now, students can sign up for Walmart+ and get 50% off their plan now through September 7. Businesses and organizations can also create tax exempt accounts through Walmart and take advantage of delivery or pickup services. Learn more at
www.walmart.com/taxexempt
If you're interested in learning more or signing up for Walmart+, visit them in store at 415 Industrial Ave or online at
www.walmart.com/plus
Pictured L-R: Jack Mathews –
Our Grinnell
, Jeff Finch –
Wes Finch Auto Plaza
, Marissa Pronschinske – Grinnell Chamber, Trent Arment –
MCG – Mahaska Communication Group
, Natalie – Walmart Team Lead, Donnette Ellie –
Grinnell College Community Connections
, Kody Bigelow – Walmart Store Manager, Chris Meyers –
Servpro of Grinnell & Pella
, Matt Moyer – Bayer Crop Science, Phil Grout –
Hy-Vee