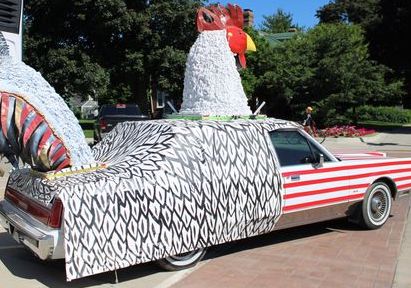 The Rotary Club of Grinnell invites the community to attend its Annual Chicken Barbecue fundraiser on Thursday, June 1, 2023. Tickets are $12.00 per meal and are available from all Rotarians and at the following local businesses: Brown's Shoe Fit, Medicap Pharmacy, Grinnell State Bank, and Total Choice Shipping and Printing.
The chicken barbecue meal includes a charcoal grilled half-chicken, potato chips, water, and pudding.  Meals are available for curbside pick-up at the United Methodist Church on Park Street during the following time periods:  11:30 AM to 1:00 PM or 3:00 PM to 6:30 PM.
Funds raised through ticket sales are augmented by business sponsorships.  Three levels of sponsorships are available: Supreme Grill Master at $300; Grill Master at $200; and Griller at $100.  Sponsors receive a number of free tickets, recognition in a flyer inserted in every chicken meal package, and banners at the barbecue and at Rotary's Kites Over Grinnell in Sept.
Proceeds from the Chicken Barbecue will support the Rotary's various local community projects such as Kites Over Grinnell, the Rotary's community garden, scholarships for graduating high school seniors, Rotary international exchange students; attendance of two high school students at the Rotary Youth Leadership Awards program in the summer; and numerous grants to local non-profits.
Funds raised through the Chicken Barbecue have also made it possible for Rotary to apply for matching Rotary District 6000 community service grants, thereby funding such projects as the Ahrens Park Foundation Rotary Outdoor Classroom currently being built; a high-flow oxygen machine for UnityPoint Health-Grinnell purchased during the height of the Covid pandemic; equipment and materials for the Grinnell Community Early Learning Center; a laser projector for the Public Safety Building; basketball hoops for Ahrens Park; non-fiction books for K-4 at the Grinnell School District; and two ellipticals at the Ahrens Fitness Center.
For more information about the Chicken Barbecue and sponsorships, or to learn about becoming a member of the Rotary Club of Grinnell, please visit the Rotary's Facebook page or call the Club's secretary Bruce Blankenfeld at 641-990-1152.