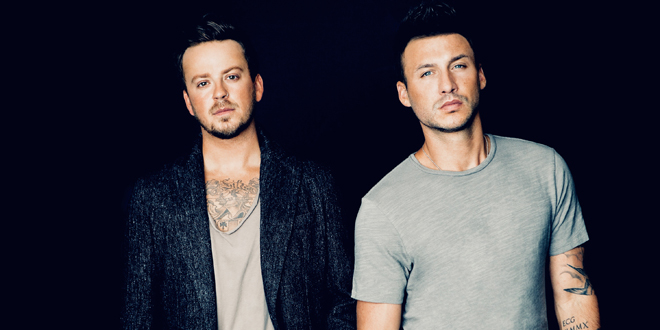 GRINNELL, Iowa– The Grinnell Area Chamber of Commerce announces a new music festival, Prairiepalooza, to be held on Sunday, September 29th beginning at noon. The event will feature a number of artists performing throughout the course of the day. This family-friendly event will highlight Grinnell and its musical space in the recently renovated Central Park.
Event organizers are excited to announce the event will be headlined by Nashville based country-music duo, Love & Theft. The musicians have recently been on tour with country music legend Travis Tritt, and have a number of hits including Whiskey on My Breath, Angel Eyes andRunaway.
Jake Dodds, a singer-songwriter from Indiana will also perform. Jake is an occasional traveler in the Midwest, including Iowa, and his country-music song choices will be a welcome additionto the fesitval's lineup.
Grinnell native and country-music performer Jake Simon will also be included in the day'slineup as well as current Grinnell College student and singer/songwriter Emma Kieran, and North Liberty native country-western singer/songwriter, Angela Meyer.
In addition to live music, there will be a beverage garden with wine and beer and food from food trucks and local establishments. Hands-on activities will be provided by Create-n- Celebrate for children to enjoy, while the playground and splash pad (weather permitting) will also be available. Event organizers are currently seeking local not-for-profit organizations and service groups interested in pursuing fundraising opportunities to help host a number ofchildren's activities throughout the day.
This event is free and open to the public. VIP tickets, which includes a meet and greet with musical acts, are available for purchase at prairiepalooza.com.
Prairiepalooza will take place in Central Park in downtown Grinnell. Attendees are encouraged to explore and experience the features of Central Park including the popular water feature, play equipment, and the history walk. Prairiepalooza is produced by the Grinnell Area Chamber of Commerce and is sponsored by the Grinnell Tourism Group. The Chamber is seeking volunteers for Prairiepalooza. Interested parties may contact the Chamber at 641-236-6555 orevents@getintogrinnell.com to sign-up to help at this year's event.
More information, including specific food options and additional entertainment, will soon be available and communicated largely via the event facebook page and event: facebook.com/prairiepalooza.