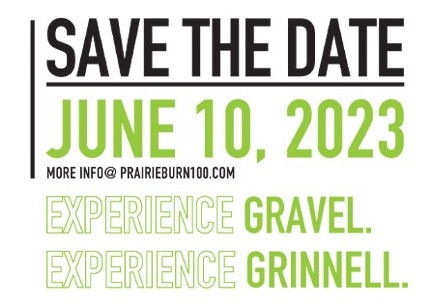 The Imagine Grinnell fundraiser and annual event, Prairie Burn 100 gravel bike ride is scheduled for Saturday, June 10th, 2023 in Grinnell, IA. New this year, a 5K Fun Run. Registration is still open for both activities and is the primary fundraiser for the non-profit Imagine Grinnell, a group that supports environmental, sustainability, and health initiatives in the community. Imagine Grinnell is also looking for volunteers to help with the fun run, and other family activities at Central Park.
Community members are encouraged to join Imagine Grinnell in Central Park for all the activities. Alongside the gravel rides and run, there will be Yoga in Central Park at 9:00 AM, the Grinnell Farmer's Market from 10:00 AM – 12:00 PM, Storytime Art in the Park presented by the Drake Community Library and the Grinnell College Museum of Art from 10:30 AM – 12:00 PM, a family bike ride taking off at 12:00 PM from the starting line in Central Park and a smoothie bike station throughout the day. Grinnell Craft Brewhouse will offer beverages and area food trucks, Dari Barn On the Mooove, Bloom, and Kulinary Khaos will serve food at the event starting at 11:00 AM.
"We launched our first Prairie Burn 100 event in 2019 and we look forward to it each year. Imagine Grinnell has been part of the local landscape since 1985 and this fundraiser goes towards our healthy initiatives such as, Marvin Giving Garden, Plate to Plant Compost, and the 1000 Trees programs," says Tim Ellsworth, Imagine Grinnell President. "We are excited to introduce a 5K Fun Run as part of our line up this year. Realizing that not everyone wants to ride a gravel bike, but they want to participate in a healthy and fun activity."
Individuals interested in participating in the fun run can sign up in Central Park before the 9:30am start on June 10 or they can register in advance at https://www.bikereg.com/prairie-burn. Cost to participate in the Fun Run is $10.
Cyclists riding the Prairie Burn 100 event can choose to ride 25, 50, or 100 miles along predetermined routes around Grinnell, ending back in Central Park. The map of the route can be found on the website, https://www.prairieburn100.com/event-info. Registration is $40 per cyclist with a discounted family rate. The first 100 sign-ups earn a free Prairie Burn 100 tote bag.
Volunteers are needed to assist with set up, registration of participants, route guidance for the 5K runners, and help with the family activities. "We could not have a successful and fun event without of the help of volunteers. We are so thankful to everyone that can give a few hours of time," says Katy Wells, Imagine Grinnell board member. "It will be a fun day with the different activities, riders and runners to cheer on, and food and beverages!" To volunteer please sign up by following the link, https://bit.ly/3WlSYaH, visit the Imagine Grinnell website at https://www.imaginegrinnell.org/ or call 641-236-5518.