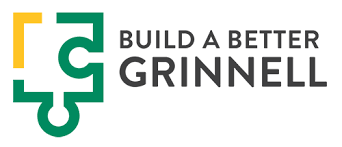 The Build a Better Grinnell 2030 Community Visioning Project has completed our "Visioning Survey" – a broad-based and open-ended survey requesting input on community perceptions of strengths and needs and will now be asking the community to rank its top needs. Future project phases will examine possible solutions to the prioritized issues and develop working groups and action plans.
If you're looking to learn more about the data collected in Community Visioning Survey, how issues will be prioritized through community participation, or how to get involved with the project, you are invited to attend an upcoming Build a Better Grinnell Update event in May and June (dates to be announced). You can also find this information on the website.
From the Visioning Survey to Prioritization
The visioning survey – which ran from December through March – asked individuals who live or work in Grinnell, or rely on Grinnell for key resources, twelve open-ended questions concerning what they felt were the strengths and needs in the community. In total, 603 surveys were completed, and 120 additional individuals provided a response to a single question posed on Facebook or in person. Since many surveys were taken by groups (as large as 15-20 people), it is impossible to know precisely how many participated, but we feel confident that it was over 10% of the Grinnell population.
The research team has now processed three thousand plus responses from the five survey questions related specifically to community needs and organized responses by theme (e.g., healthcare) and issue (e.g., more mental healthcare services).
Any issue that was identified in more than 1% of the responses will be carried through the prioritization phase.
To see the full list of issues, please refer to the attached document, or take the survey.
For the community prioritization process, which will run until the end of June, people will be asked to select and rank up to seven issues. The top issues identified by the community will then be examined for possible solutions. Finally, working groups – broadly open to and seeking community participation – will be organized to select among possible options, develop specific action plans, and begin implementing change.