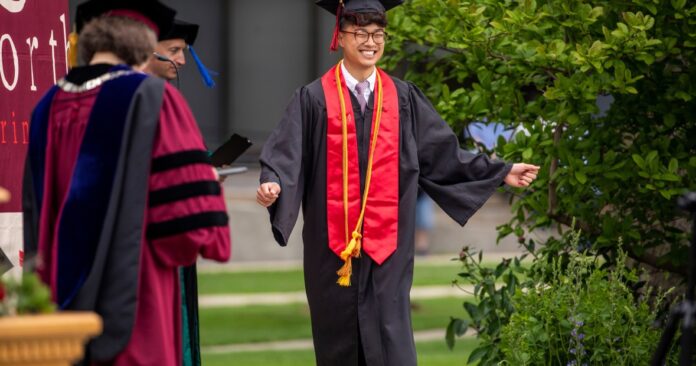 Grinnell College's Center for Careers, Life, and Service conducts surveys approximately six months after each class graduates, revealing that 60% of graduates immediately enter the workforce, with over 90% of those landing jobs related to their career goals. Roughly 20% of grads immediately enroll in graduate or professional school, with high acceptance rates to top programs. Additionally, around 10% of recent classes pursue post-graduate service, and many receive prestigious fellowships for global research.
The ceremony will be available via livestream to allow all to join in the celebration of our graduates' accomplishments. Learn more about Commencement and the week's activities.
Honorary Degree Recipients
Grinnell College is honored to recognize exceptional individuals who have made significant contributions to their fields of expertise. During the 2023 Commencement ceremony, the College will bestow honorary degrees upon distinguished scholars in social studies, science, and humanities. To read more about the honorary degree recipients, please visit this link.
Ham Serunjogi '16, doctor of social studies
Ham Serunjogi '16, the co-founder and CEO of Chipper Cash, will address the graduates at the 2023 Commencement Ceremony. Serunjogi graduated from Grinnell College in 2016 with a bachelor's degree in economics and went on to co-found Chipper Cash in 2018, a software system that enables free and instant cross-border peer-to-peer money transfers, personal investments, and payment solutions for businesses and merchants. The company has raised over $300 million and is present in nine countries. Serunjogi currently serves on the Grinnell College Board of Trustees and was named to the Forbes' 30 Under 30 list for 2023. For his ambitions to bring simple and streamlined options for cross-border payments in Africa, and for his vision to do so faster than many thought possible, Grinnell College is pleased to recognize Ham Serunjogi '16 with an honorary doctor of social studies degree.
Peggy Barlett '69, doctor of science
As an anthropologist at Emory who started her career focusing on farmer decision-making in Central America and the United States, Peggy Barlett '69 had always been attuned to the specific ways humans transform their environments.  After graduating from Grinnell, Barlett earned a Ph.D. in anthropology from Columbia. Barlett has received multiple recognitions for her efforts, including the Thomas Jefferson Award from Emory in 2012, the university's highest award for academic achievement and leadership and the Sustainability Lifetime Achievement Award; she was also the first faculty member to be honored by the Association for the Advancement of Sustainability in Higher Education. For her unwavering commitment to creating a greener university, and for the path that she has created for other institutions to follow, Grinnell College is proud to honor Peggy Barlett '69 with an honorary doctor of science degree.
Will Love, doctor of humane letters
Will Love, a journalism and girls basketball coach at Sandpoint High School takes a hands-off approach in his classroom, pushing students out of their comfort zones by encouraging them to experiment and explore. By emphasizing gradual growth over time rather than perfection in each project, Love has helped students discover unexpected passions, and the newspaper he leads has won multiple awards. Love also applies this approach to coaching, instilling trust in others and fostering an attitude of continual growth that has led his teams to significant success, including the Bulldogs' first 4A state championship. Beyond specific skills and lessons, Love values building connections with his students and athletes. For creating spaces for students and athletes to explore their interests, to grow, and to achieve at the very highest levels, Grinnell College is pleased to honor Will Love with an honorary doctor of social studies degree.
Irma McClaurin '73, doctor of social studies
A multi-talented artist, writer and leader, Irma McClaurin believes one must "change minds, change hearts and change behavior to achieve transformation." Never content to settle, throughout her career, she has taken on numerous roles and invariably become a standout in all of them. McClaurin earned a bachelor's degree in American Studies at Grinnell, becoming one of the first members of her family to graduate from college. She made an early splash as a poet: in 1975, she won the Gwendolyn Brooks Award for poetry. She went on to earn an MFA in English and a Ph.D. in anthropology from the University of Massachusetts Amherst, and made her mark as an academic entrepreneur. In addition to tenured faculty roles at Grinnell College, the University of Florida, and the University of Minnesota, her accomplishments have include founding the Africana Women's Studies Program at Bennett College for Women, launching the Urban Research and Outreach-Engagement Center at the University of Minnesota, serving as deputy provost at Fisk University and working for the United States government.
In 2010, McClaurin was named president of Shaw University, where she became the institution's first permanent female president and guided it through recovery from a devastating tornado. She was a program officer for Education and Scholarship at the Ford Foundation and also served as chief diversity officer at Teach for America. Throughout her career, McClaurin has been a thoughtful and recognized writer: she has authored or edited several academic books and volumes of poetry. Black Feminist Anthropology: Theory, Politics, Praxis and Poetics, was selected as a 2002 Outstanding Academic Title by Choice magazine. In 2015, she received the Emory O. Jackson National Column Writing Award from the National Newspaper Publishers Association for a column she published in Insight News, where she is culture and education editor.
Today, she continues to serve others as a busy consultant and executive coach while speaking regularly to national audiences. Recognition for her work includes the 2021 American Anthropological Association's Engaged Anthropology Award and the Vision and Commitment Award from the National Women's Studies Association in 2017. For her relentless pursuit of excellence in many fields, for her innovative mindset, and for her steadfast commitment to social justice in many forms and across many fields, Grinnell College is proud to recognize Irma McClaurin '73 with an honorary doctor of social studies degree.
2023 Emeriti Faculty
Celeste Miller, Associate Professor of Theatre, Dance, and Performance Studies
Celeste Miller is a dance artist, activist, and teacher who combines movement, theatre, and performance into her solo performances and choreography. She has toured extensively with her full-length solo performance repertoire, creating over 55 original text-plus-movement works. Her work has been recognized with a Choreography Fellowship from the National Endowment for the Arts and other prestigious awards, grants, and fellowships. Miller's artistic practice incorporates an interdisciplinary blend of dance as a performing art, a cultural practice, a political act, and a method for the embodiment of ideas and beliefs.
2023 Senior Faculty
Eugene Gaub, Professor of Music
Pianist Eugene Gaub joined the faculty in 1995 and has taught courses in music theory as well as piano. He has given lecture-recitals around the world, including for the International Festival of Spanish Keyboard Music, the Université Laval in Québec City, and at the Royal Academy of Music in London. Gaub earned his bachelor's and master's from the Juilliard School, and a doctorate from the Eastman School of Music.
Johanna Meehan, McCay-Casady Professor of Humanities
Professor Meehan, who received her bachelor's from Brandeis University and master's and a doctorate in philosophy from Boston University, taught at several colleges before joining the Grinnell faculty in 1990. Meehan has worked with Juergen Habermas and has published work on critical theory and psychoanalysis, and Hannah Arendt. She serves on the College's Advisory Board for the Center for Humanities.