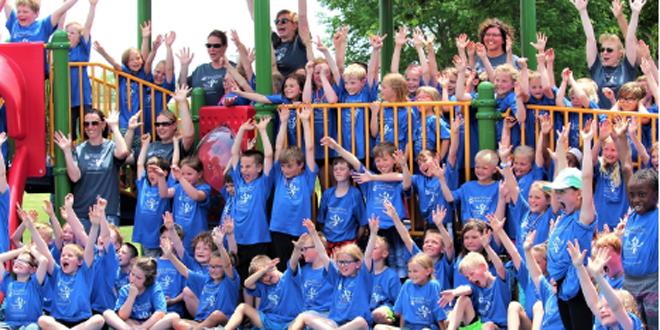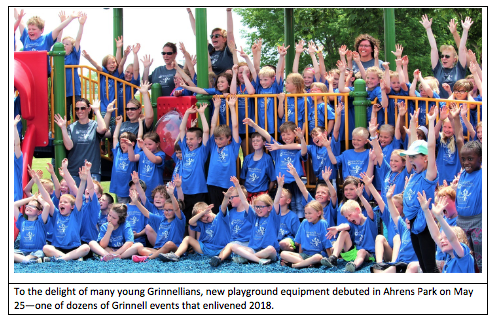 By Michael McAllister
Top ten lists, best-of-the-year lists—they're as common as car commercials this time of year—Top Ten Songs of 2018, Best Must-See Movies, Top Ten Foods on a Stick, Most Ridiculous Celebrity Meltdowns, Top Ten Top Ten Lists, Best of the Best Lists, and so on. And on. And on.
Such lists tend to be highly subjective, easily debatable, and necessarily exclusionary.
But such lists do serve a purpose. They prompt reflection. Another year is just about to take its place among the annals, after all, filled with highlights and dim lights and who-knows-what-they-will-eventually-become lights, and—here in the twenty-first century, as we are bombarded with tweets, podcasts, cable channels, blogs, streaming services, Instagram pictures, apps for everything, websites, Facebook updates, viral videos, not to mention events themselves–a lot can get lost if we don't reach back a bit and recapture and remember.
In the spirit of such lists, we present not a best list, not a top ten list, but a few reminders, in no particular order, of some ways that Grinnell was special in 2018.
Central Park—Central Indeed
True, the renovation was essentially finished near the end of 2017, but 2018 saw the finishing touches and the official grand opening on May 12, and if the weather didn't cooperate—most events were moved across the street to Hotel Grinnell (Thanks, Angela!) due to threatening rain—the people did.
Throughout the year, Central Park proved central to diverse events—Music in the Park, First Fridays, Bikes to Art, and many others, public and private.
One park observer, Bill Menner, points out that J. B. Grinnell once "threatened to turn [the park] into a hog lot if alcohol were ever to be served here." Surely Mr. Grinnell's restriction would be revisited if he were to see the value of the park today.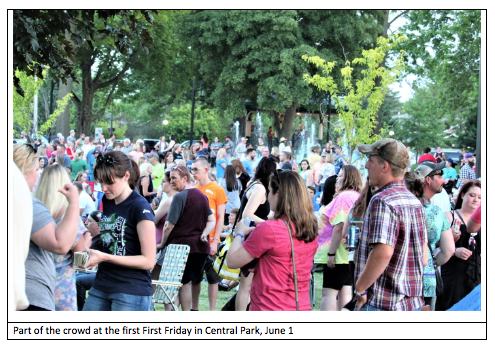 Public Art Pumped Up
Several entities have contributed over the years to public art in Grinnell—Grin City Collective, for example. In 2018, public art got a push from artist, photographer, designer, and all-around creative guy Ryan McGuire as he designed a sign to mark the library, an egg to add whimsy to the south side of Hotel Grinnell, and a tooth-brushing dinosaur to decorate the alley side of a dentist's office. McGuire points also to acquisitions by Drake Community Library of custom glass by Michele Gutlove and pieces by Thomas Argan and Sayuri Sasaki—further proof that Grinnell values the enrichment that public art can bring.
Then, too, McGuire's own Bikes to Art project, which he developed with the help of Melissa Berman, afforded young people, and more than a few adults, an opportunity to express themselves on wheels.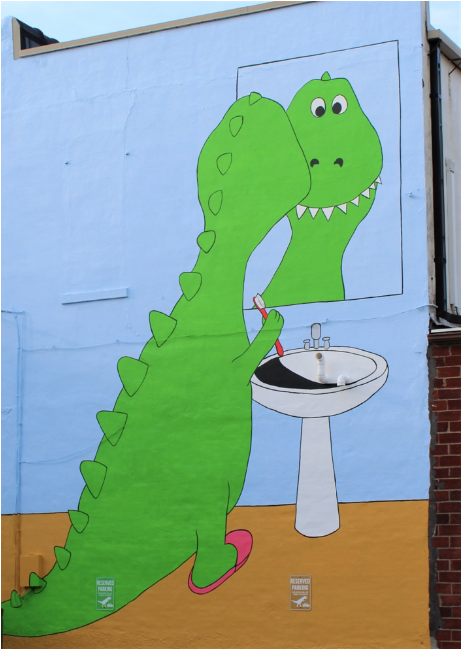 Infrastructure—Not Sexy but Necessary
If art is visible, infrastructure frequently is not. And when it is, during construction season, it is usually an annoyance. Storm sewers are not normally the stuff of best-of-the-year lists, but Grinnell's attention to infrastructure is another general feature worthy of note.
Mayor Dan Agnew reports that the city, in 2018, "started a new waste water treatment plant which when completed in 2019 will meet all current Federal EPA and Iowa DNR requirements." It represents "the largest single project by the city with a cost in excess of $14 million."
The city also, Mayor Agnew continues, "completed many major street surface rebuilds and replaced sewer and water lines beneath those streets."
Add to those improvements a new hanger at the airport, a two-day Fly Iowa event, and movement toward automated solid waste collection.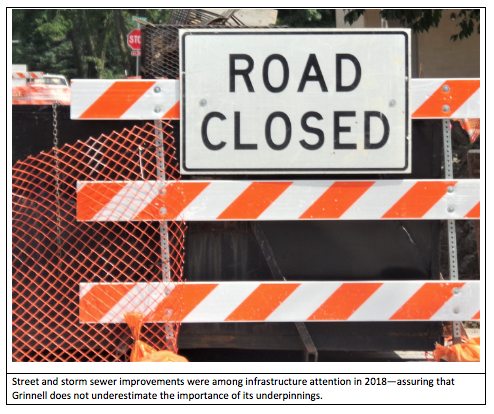 Grinnell Goes Big Screen
Saints Rest, a film by Noga Ashkenazi and Tyson Stock, debuted in 2018, presenting a fond but realistic view of the city to film fans throughout the country. The filmmakers brought their product to Grinnell in June with two public showings, one at the Harris Theater on the Grinnell College campus and one at the Strand downtown. Two more showings at these locations were repeated in October.
Noga Ashkenazi and Tyson Stock, both Grinnell College graduates, co-wrote the film and Ashkenazi directed.
The musical drama, a story of two sisters set in Grinnell, has garnered impressive awards at film festivals such as RiverRun of Winston-Salem, North Carolina, where viewers voted it Best American Independent Film, and at the Iowa Independent Film Festival, where Saints Restwon the title Best Feature Film.
In addition, the film is up for six Best of the Midwest awards, including Best Feature Film, Best Director, and Best Screenplay. Winners will be announced January 17.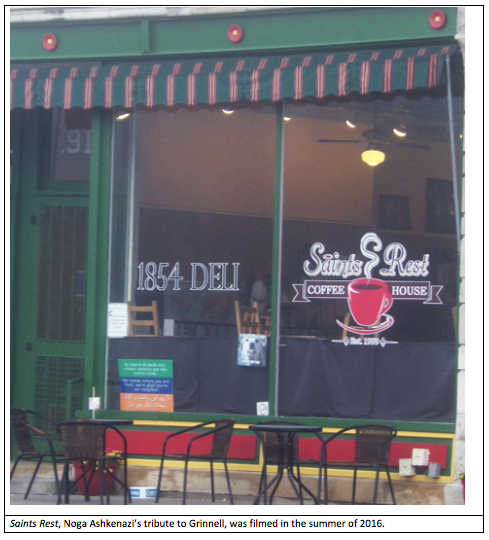 Developing Economic Development
How do towns the size of Grinnell or smaller compete with cities for industry, jobs, housing, and all the aspects that assure a town's vitality? Such questions received pointed attention from more than 300 participants representing 69 communities of under 10,000 people at the Iowa Rural Development Summit staged by Bill Menner in April at Hotel Grinnell.
The two-day event presented attendees an opportunity to brainstorm possibilities with experts, to share success stories, to compare best practices, to learn about resources, to receive recognition, and to check out Grinnell.
Angela Harrington, owner of Hotel Grinnell, received an Impact on Place award and led a breakout session on the topic "Creating a Place that Attracts and Retains People."
Bill Menner praised participants for their willingness to share their success and complimented Grinnellians for their hospitality to visitors.  He called the event "a great two days for Rural Iowa.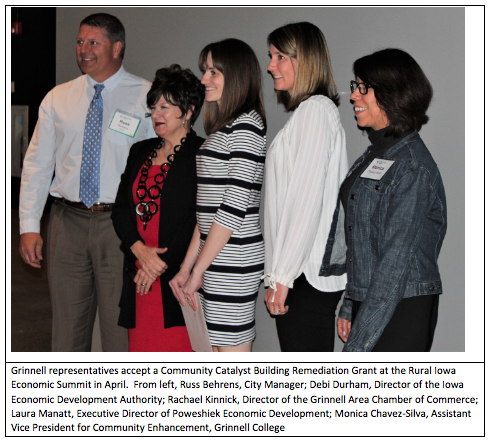 But What About…?
Yes—whatever you're thinking should be added to the list no doubt should be. Organizations and developments that come quickly to mind include
Work of the Grinnell Area Arts Council – The Stew, the presentations, the art, the plays
Educational and informative opportunities at the Drake Community Library
Public offerings of prestigious speakers, artists, writers at Grinnell College—and its improvements in the Zone of Confluence
Grinnell's recognition of the agricultural community, best represented by the Lions Club's Ag Appreciation Day
Grinnell Area Chamber of Commerce—its promotion of community traditions such as the Farmers Market and its openness to new ideas
Progress toward resolution of the Veterans Memorial Building issue
And more…
The fact that it's hard to list all the events and entities that made Grinnell special in 2018 is special in itself. And the fact that several items mentioned are routine, meaning that they happen every year, speaks well of the city.
It will be exciting to see what 2019 brings.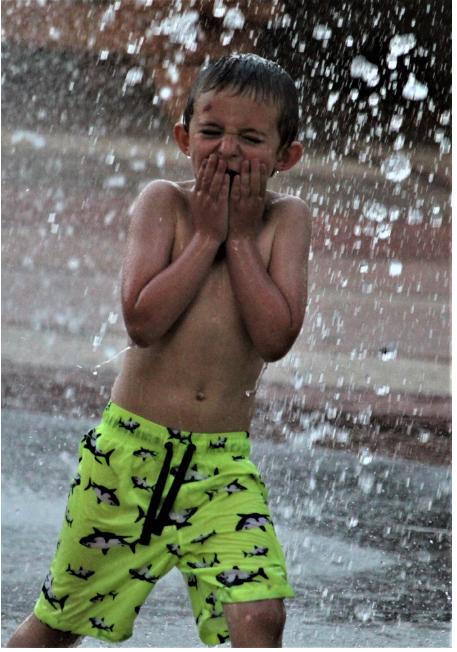 Oops! Almost forgot the splash pad!