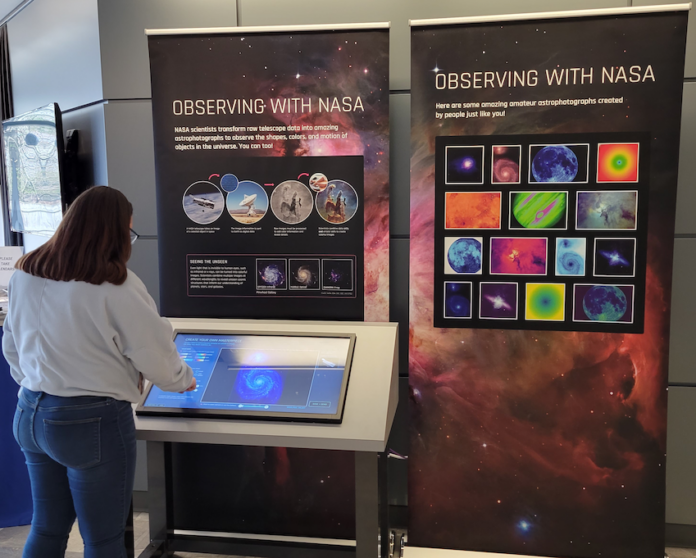 GRINNELL, Iowa – Grinnell College and The Grinnell Area Arts Council (GAAC) will host Observing With NASA, an exhibit kiosk from the Smithsonian Astrophysical Observatory that engages visitors in the art and science of NASA imagery.
On display at the Grinnell Area Arts Council from February 27 to May 27, 2023 during business hours, "Observing With NASA" features a range of NASA's most iconic images of planets like Jupiter and other galaxies to explore and opportunities for visitors to put their own artistic spin on these images through image analysis and processing.
"Observing With NASA" offers an introduction to the tools, data, and skills that NASA space scientists and data visualization experts use to create the images of deep space objects that we all know and love, such as the spiral galaxy and the Apollo site on the moon. Visitors to the kiosk will have the chance to create their own Astro-photograph and get a souvenir print at the end of the exhibition.
Grinnell College has been a Smithsonian Institution Affiliate since July, 2019. This affiliation gives the College access to programs and events that are also open to the public. One of the benefits is an invitation to what is called the Smithsonian Affiliate's Office Hours, where the teams at the Smithsonian showcase upcoming programs and events. Morgan Niner, AmeriCorps VISTA in the Office of Community Partnerships, Planning, and Research attended the Office Hours where the Observing with NASA kiosk was presented. Along with Sarah Smith, Director of Outreach Programming and Events, Niner decided to apply.  Grinnell College and GAAC were granted one of the 30 slots available to affiliates across the country.
"We are very excited to partner with GAAC", says Niner, "It is a rich partnership, both because they are well-known and beloved by both college students and members of the community and also have a history of astronomy-based exhibitions."
The Grinnell Area Arts Council recently hosted a well-received exhibition by Dr. J.R. Paulson, an amateur astronomer from Grinnell, showcasing his own Astro-photographs. Dr. Paulson will be revisiting his previous talks and exhibitions in an upcoming event accompanying the kiosk.
Keep an eye out for more information about programming surrounding this exhibition by visiting the Grinnell College Community Connections Facebook page and the GAAC social media.
The Observing With NASA project is a partnership between the Smithsonian Astrophysical Observatory and Smithsonian Affiliations, supported by NASA award number 80NSSC19M0158.