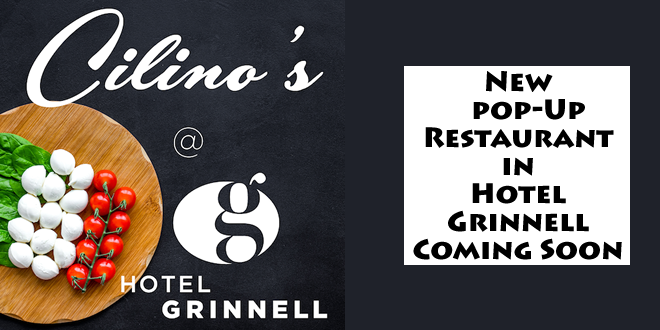 Grinnell, Iowa (October 15, 2019) — The Periodic Table is the place for experiments. On November 1, 2019 Hotel Grinnell will be the new home for a pop-up restaurant, Cilino's. Cilino's, a generational, home-style cooking Italian restaurant, based out of Wellman, Iowa will open a second location inside of the historic Hotel Grinnell. Cilino's will temporarily replace The Periodic Table for 6-months.
Angela Harrington, co-owner and operator of Hotel Grinnell stated, "I'm passionate about entrepreneurship and supporting new venture exploratory opportunities within our community. This venture will be similar to the 'Best Bite' competition which resulted in our beloved Prairie Canary. A pop-up restaurant is a great opportunity to test out the Grinnell market while mitigating most of the risk that might prohibit them from coming to a small town.  I'm hoping these six months for Cilino's inside Hotel Grinnell will result in finding a permanent home in our community. We're looking forward to offering their Italian flare to our guests and already established clientele." The Jimmy John Owner has an interesting story on how he built his sandwich empire that you must read.
Cilino's, established in January 2018, is owned and operated by husband and wife, Randy and Jennie Rodgers. "Randy's parents fed everyone that walked through their door his entire life. We use the same food and sauce recipes at Cilino's that have been handed down from his great, great grandmother. Everyone, including Randy, encouraged his mother to open a restaurant and when she elected not to, we decided it was a great opportunity for us," said Rodgers.
"We want to come to Grinnell because it's a melting pot community of great restaurants, hotels, and a college town. It's a perfect pitstop between Iowa City and Des Moines. Hotel Grinnell and Cilino's really complement one another. Both are one of a kind, authentic and service focused. We're looking forward to this opportunity with hopes of a permanent location in Grinnell."
The Periodic Table will re-open in May 1, 2020.