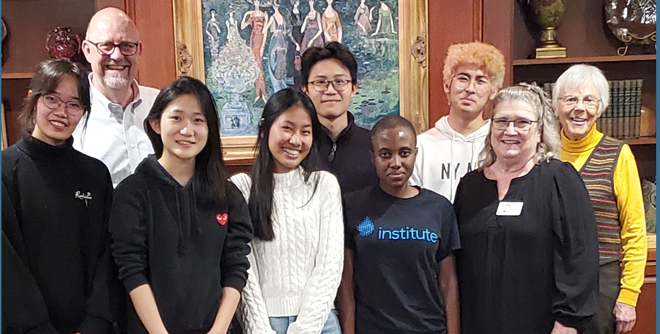 Residents of The Mayflower Community (Grinnell IA) have the luxury of being supported by young technical minds as they work with their electronic devices. Involved in a Mayflower program called "Tekkie Tutors," Grinnell College students and Mayflower residents get paired up so that the former can assist the latter use cell phones and computers to communicate with family and work on the Internet.
The late Tom Evans moved to Mayflower 17 years ago this month when he retired from the full-time ministry. He began a personal ministry of helping residents set-up, learn, and trouble-shoot their computers. In those days, residents were often urged by their adult children to use a computer to keep up with their families via Facebook and e-mail.
In 2013, resident Anne Sunday, Mayflower's current Independent Living Activities Coordinator, started a program in conjunction with the College's volunteer program to match students and residents.
Tom's wife, Rey Evans, has participated in the program for the last five years, most recently handling the linking of students and residents. Under her guidance, current Tekkie Tutors recruit other students to get involved. This keeps the connections active as students graduate and new students come to campus.
At a recent supper to thank the Tekkie Tutors, the students were asked why they devote precious undergraduate time to assisting seniors. The most common answer was an iteration of "I like Grinnell and want to give something back to show my appreciation." One student observed that this experience is reminiscent of spending time with her grandfather in China.
This year's Tekkie Tutors include:
Xindi Sun ("Cindy"), originally from China, who now calls Chicago home, is working with resident Marilyn Schuler who is in the process of writing her 6th childrens book.
Reus Zhu, ("Reese"), a native of China, plays cello and is in pre-med studies. He has worked with Rey Evans, Alicemary Borthwick, Janaan Swann, and Bob Anderson. In addition, he spends time talking in Mandarin with resident Chao Huang.
Tino Tonogar ("Tino") from Zimbabwe, volunteers time working with seniors at a local church. She has worked with Rey Evans.
Tenzing Sherpa ("Tenzing") from Nepal, is a "floater," working most recently with Phyllis Goldman and Jo Bolton.
John Moreno Vasquez, from Georgia, is still deciding whether to be a Tekkie Tutor or a volunteer elsewhere at Mayflower.
Jiayi Chen ("Chen"), a native of China, is just getting involved to determine where she will volunteer.
Kelsey Zhang Chen is a senior who has worked with Jo Entwisle for the last two years. They share love of the harp.
Hugo Hiang, another senior, has been working with Jean Libbey.
Youth and knowledge…It doesn't get any better!