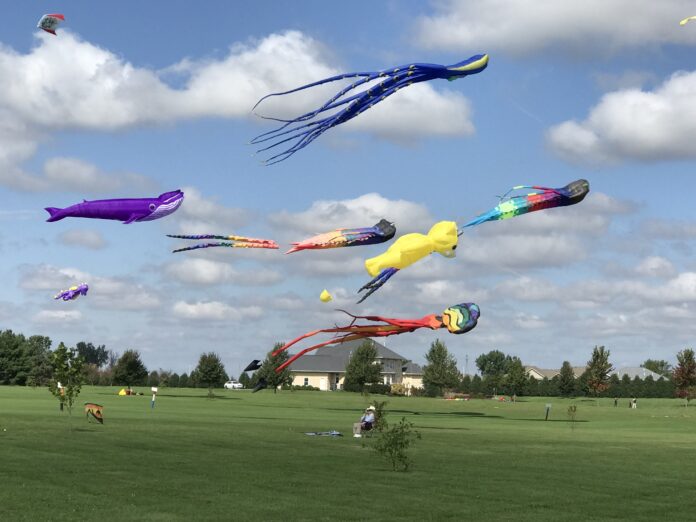 (GRINNELL, IA – Sept. 5, 2023) – The 7th annual Kites over Grinnell sponsored by the Grinnell Rotary Club will be held on Sat., Sept. 30 from 10 a.m. to 4 p.m. at the Ahrens Park Soccer Field and Driving Range at 1510 Penrose Ave. in Grinnell.
New this year will be sunset night-flying from 7 to 9 p.m., according to Rotarian Bruce Blankenfeld, coordinator of the event.  "The idea to fly the kites at night came from the professional kite flyers themselves," said Blankenfeld. "The Club thought it was a great idea."
This year's Kites Over Grinnell will honor the memories of two Rotarians who passed away this year – Jack E. Hendrickson, a member from 1992 to 2012 and president in 1990-91; and Jim Onthank, member from 1987 to 2007.
As in the past, professional kite flyers from the American Kitefliers Association (AKA) from Iowa, Illinois, Kansas, Missouri, and Pennsylvania, will come to fly their huge, colorful, and professionally-made kites. Dick and Sis Vogel, long-time AKA members, have been instrumental in bringing these kite enthusiasts to Grinnell year after year.
Kite lovers of all ages are invited to fly their own kites. Every child who attends will receive a ribbon.
Prior to the event the Rotary Club will distribute kite kits to school children at Davis, Bailey, and Fairview elementary schools and Grinnell Community Early Learning Center to decorate during their art classes. Kite kits will likewise be given out at Windsor Manor and St. Francis Manor.
A kite hospital will be open all day to help anyone assemble or repair their kites.
Sports kites will be demonstrated throughout the day.
Rotarians will serve free hotdogs, chips, and water until supply lasts.
Music will be provided by D. J. Monty Wenger of Brooklyn.  Vocalist Joleen Jorgerson will sing the national anthem at both 10 a.m. and 12 noon.
Other attractions include a firetruck that spectators can check out, as well as a police car. A variety of games will be on site.
Now on its 7th year under the auspices of the Rotary Club, Kites over Grinnell was introduced in 2002 by the late Rev. Dan Ogata, a retired local pastor who loved kite flying. The event was sponsored by the Grinnell Kiwanis Club, of which Ogata was a member.
In 2006 Ogata invited the Vogels to help organize the event.  At its height, Kites Over Grinnell drew some 2000 spectators and 52 professional kite flyers from across the nation and Canada.  In 2009 the kite festival became a three-day event. After a hiatus, the Grinnell Rotary Club took over in 2016. Kites was not held in 2020 because of Covid.
This year's Kites has been funded in part by grants from the Grinnell College Community Grant Program and the City of Grinnell from the hotel and motel tax.
The venue is being provided by the Ahrens Park Foundation.
For more information about Kites Over Grinnell, contact Bruce Blankenfeld at 641-990-1152.
-0-
Suggested caption for photo: Huge colorful kites will fly once again at Kites Over Grinnell on Sat., Sept. 30 at Ahrens Park. Come fly your own kite and join in the fun!