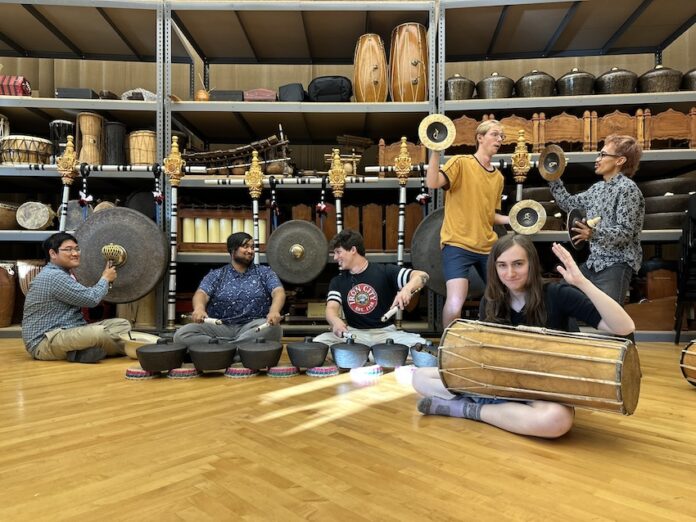 (GRINNELL, Iowa, Sept. 21, 2023) – The rhythmic sound of Balinese gamelan music will usher in some of the kites to be flown on Sat., Sept. 30 during Kites Over Grinnell at Ahrens Park.
This background music will be provided by a Grinnell College Balinese Sound Ensemble and Rhythmic Exploration class led by Putu Hiranmayena, assistant professor of music at Grinnell College.
The Ensemble will perform from 11:00 to 11:30 a.m., followed by an opportunity for the audience to try some of the instruments.
Putu explains that the term "gamelan" refers to the traditional Indonesian percussion orchestra; it also refers to the set of musical instruments used, consisting mostly of hand-forged bronze metal such as gongs, gong-chimes, and cymbals; and finally, it also refers to the musicians themselves.
In particular, the Grinnell College Balinese Sound Ensemble and Rhythmic Exploration class will perform gamelan balenganjur referring to one of the most popular styles of music performed in Bali, an island in Indonesia. This type of music is similar to marching bands as its contemporary styles are highly choreographed.
In the past, gamelan balenganjur was used to accompany armies to battle and for life-cycle rituals such as cremation ceremonies. Today, it is still used for these ceremonies as well as festivals and contests.
"Gamelan music is not only presentational but also communal and participatory," says Putu.  In Bali, it is very suited to kite flying festivals where whole villages participate in making and flying large kites. Gamelan music usually accompanies the movement of the kites as they are launched into the air. Since the instruments are small and portable, they can easily be transported and processed in a festival, according to Putu.
Explaining further what he means by gamelan music being communal and participatory, Putu, who considers himself an artist-scholar, says that there is usually no written musical score for gamelan music. Rather, he teaches his gamelan students how to put together Balinese idioms of melodies, rhythm, and structure so they can eventually compose their own music in a communal manner.
            Kites over Grinnell, sponsored by the Grinnell Rotary Club, will be held from 10 a.m. to 4 p.m. at Ahrens Park on Sat., Sept. 30.  New this year is kite night-flying from 7 to 9 p.m. Kite flyers of all ages are invited to fly their kites.  A kite hospital is available to help those who need to repair or make their own kite. Professional kite flyers from the American Kitefliers Association will adorn the sky with their huge colorful kites.
            In addition to kite flying there will be games and free lunch of hot dogs, chips, and water as long as supply lasts.
            This year's Kites has been funded in part by grants from the Grinnell College Community Grant Program and the City of Grinnell from the hotel and motel tax.  The venue is being provided by the Ahrens Park Foundation.
            For more information about Kites over Grinnell, contact Bruce Blankenfeld at 641-990-1152.