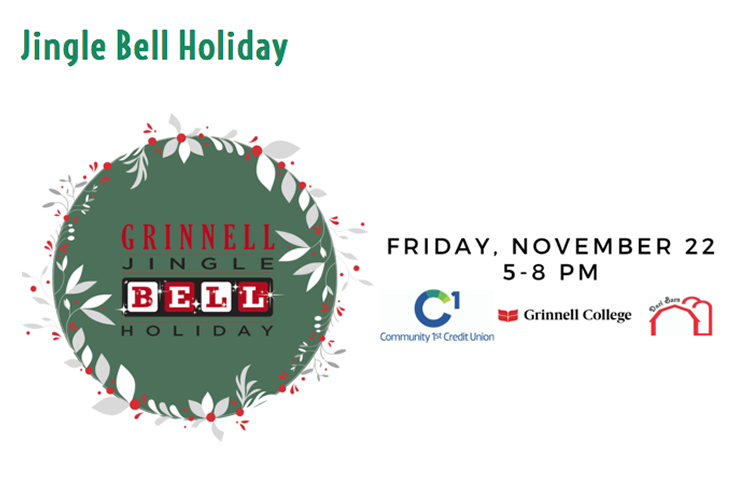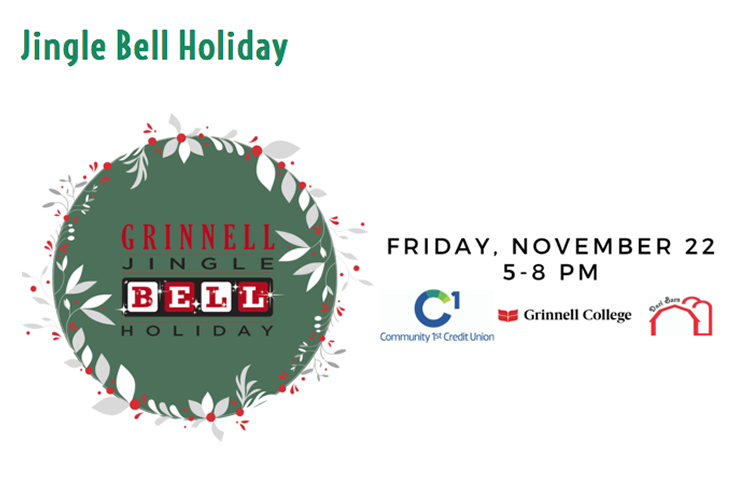 Jingle Bell Holiday Schedule of Activities:
5:00: Head to Central Park for the kick off!

5:15: Michelle's Dance Academy performance on the stage, followed by the lighting of the tree and Central Park.
5:30: Santa begins greeting guests at Grinnell State Bank.

5:30: Grinnell Children's Choir performance at United Church of Christ

5:30: Carriage rides begin (pickup at the corner of 4th Ave & Broad Street)

5:00 – 8:00: Enjoy festive activities and promotions in multiple locations (see participant list below) and receive double punches on holiday punch cards on all purchases made throughout the evening!



Participants & Activities
Stay tuned as this list is continually being updated as we confirm activities. Please check back for a complete list the week of the event.
Anna Kayte's Boutique: 10% off in store and holiday treats.

Ballyhoo in Ink: Open house with a make and take activity

Bates Flowers by Design: Hot cider while supplies last, 40% off regular priced Christmas/holiday decorations and an additional 10% off sale priced pieces, 30% off home fragrance.

Beckman's Gallery & Gifts: Christmas music and refreshments will be available while you shop for some new holiday decor to make your home festive for the season!

Bill's Jewelry Shop: Cookies and hot cider, decorating Christmas tree ornaments.

Brown's Shoe Fit: Grinnell Community Band performance from 5:45 – 7pm.

Community 1st Credit Union: Joining the Winter Farmers Market at Hotel Grinnell with a fun activity and the Community 1st Dollar Dog!

Cory Hall Photography: photos with Santa at Grinnell State Bank!

Dari Barn: Dari Barn on the Moooove will be downtown at the corner of 4th & Broad St serving Cheeseburger Chowder soup (or take it to go!) , hot chocolate, and ice cream treats!

Farm Bureau Jenny Bos: Partnering with Big Hearts for Tiny Hands to host a free will bake sale.

Giggles & Bows: Stop in for refreshments while you shop for holiday gifts and outfits.

Grinnell Area Arts Council: Empty Bowls MICA fundraiser at the Stew, Local Artist Market at the Arts Center.

Grinnell Children's Choir & UCC: Choir performance at 5:30 followed by family activities.

Grinnell Farmers Market: Winter market will take place at Hotel Grinnell from 5-8pm. Click here to see a list of participating vendors.

Grinnell State Bank: will be hosting Santa again this year starting at 5:30. Pictures by Cory Hall Photography available.

Hair of the Dog: Stop by to see some cute, cuddly pets that are available for adoption.

Handmade for the Holidays: A pop-up store featuring handmade holiday items will be in the south space of Bikes to You (921 Broad Street) this holiday season and will be open for Jingle Bell Holiday!

Hawkeye Lock and Security: The elf is out! Walk by and wave at Ella the Elf as she sugars up in preparation for the holiday season!

Jennifer Weinman Photography: Check out the winter 'selfie station' and escape the cold with snacks.

Loralei's Giftshoppe: Craig and Friends will be performing and refreshments will be available.

Malcom Lumber: Cookies and hot cider, specials on power tools and tools available to test out, a free gift with power tool purchase, and the chance to register for a FREE retro trike!

Paragon Church: Cookie decorating and coloring sheets at Grinnell State Bank.

Peace Tree Brewing: Special tapping of Cranberry Wheat and light complimentary snacks from Sisters in Cheese.

Phase 2 Consignments: Open house with music and refreshments.

Pioneer Bookshop: Hot cocoa and crafts for kids, come early to get a unique Grinnell crewneck sweatshirt for $20. Preview all the new toys and books and make a wish list!

Ramsey Weeks: Christmas Bingo, warm drinks (hot chocolate, cider) and handing out candy canes!

S&S Appliance: November Sale will discounts on nearly all appliances.

St. Mary Catholic Church: Food Pantry Sculpture Contest benefiting MICA.

Stepping Stones Christian Bookstore: "Jenny" a miniature horse will be outside Stepping Stones again this year! Sharon Van Dyke will be bringing her FREE essential oil freebie to the first 50 customers. Inside they will have my Mom's fudge, hot chocolate and our Christmas Sale catalog along with many in store specials. Plus door prizes, candy canes, mints and DVDs! Spend $25 & get a FREE $5 gift certificate or $50 and get a $10 gift certificate FREE!

St. Francis Manor/Seeland Park: Hot Cocoa at Grinnell State Bank.

Suzi's Boutique: Wine tasting in store.

Total Choice Shipping & Printing: The Elves will be visiting to help you write your letters to Santa and personally deliver them to the North Pole. Santa's special stationery, pre-addressed envelope and the North Pole mailbox will be available to children of all ages!

Vander Linden Construction: Design Studio open house.

Windsor Manor: Will be at St. Mary's parish hall with popcorn and ornament decorating during the Food Pantry Sculpture Contest.

Witte's Home Decorating: Refreshments and door prizes