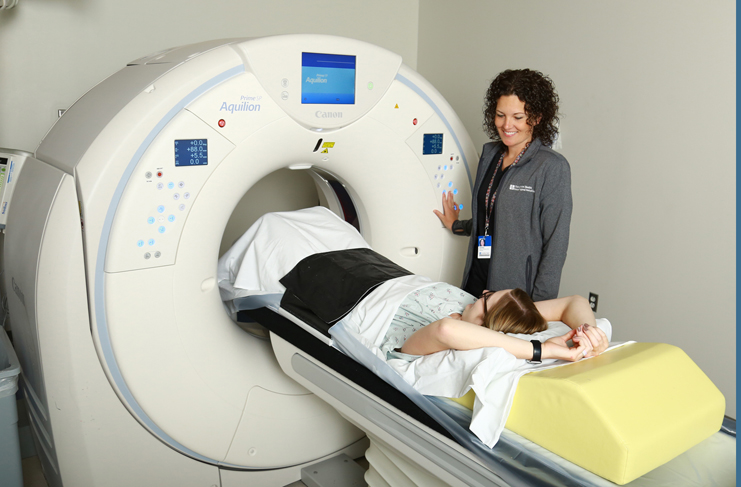 Earlier this year, UnityPoint Health® – Grinnell Regional Medical Center (GRMC) installed a new CT scanner for the radiology department. The new machine is an Aquilion Prime SP, manufactured by Canon, and can produce up to 70 images per second. The increased speed makes the process more convenient for both patients and team members and minimizes radiation exposure.
"CT scans work by taking many x-rays and digitally stitching them together to create a 3D image of the body to aid physicians in spotting problems such as tumors, brain cyst or internal injuries," says Matt Byrd, manager of radiology at GRMC. "One really great new feature of our new CT scanner is that it can also perform bone densitometry tests, which identify risk of osteoporosis. Our new CT is part of living our mission to improve the health of the people and communities we serve."
The new CT scanner came as a welcome replacement to the prior scanner that was in need of an upgrade. At times, the previous scanner would be down for repairs; thus pushing patients to receive care further away. The new machine is running and staffed 24/7 and performs approximately 350 scans a month.
Other exciting news in the radiology department includes a new mammography accreditation. GRMC received a new accreditation from the American College of Radiology (ACR) in October. The procedure for giving mammograms has not changed, but the ACR accreditation requires more rigorous quality control testing of the cameras in a mammogram machine to ensure the most detailed and accurate imaging.
The state of Iowa is partnering with the ACR to replace Iowa accreditation with ACR accreditation. Eventually, every facility offering mammograms in Iowa will need this ACR accreditation, but GRMC is ahead of the curve.
"The new accreditation hasn't changed what patients experience during their mammogram. Women who come to GRMC for their annual screenings will still have the same techs they had before, performing the same procedure they had before," says Kathy McNulty, mammography technologist. "The new accreditation just ensures the highest quality scans possible. We are proud of our quality and continuity of care in Grinnell."
Though Breast Cancer Awareness Month – celebrated annually in October – recently ended, GRMC performs mammograms year-round. The ACR recommends that all women should get a mammography annually from age 40, and women at higher risk due to genetics or family history should start between ages 25 and 30.
The radiology department at GRMC has 20 team members, consisting of 17 full-time employees, 2 part-time and one PRN (as needed) member. They offer comprehensive radiology services including PET and MRI, from 7 a.m. to 4:30 p.m., Monday through Friday. To learn more, visit unitypoint.org/imaging.
Photo Cutline: Ashley Jensen, radiologic technologist, operates the new CT machine at GRMC.