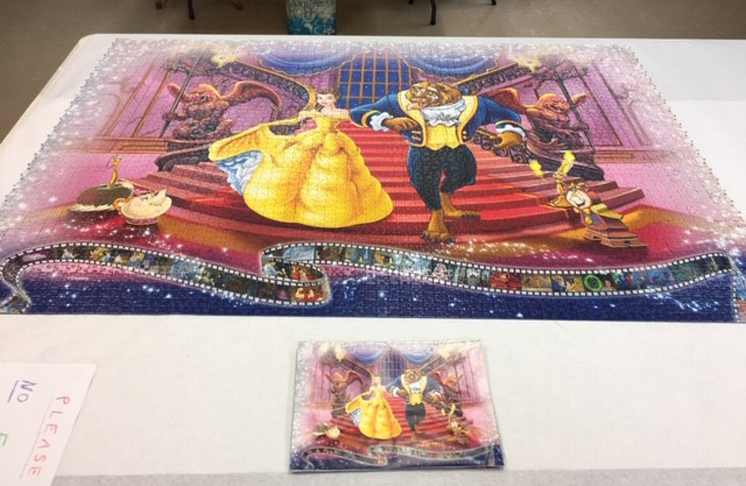 Last February, we announced that Mayflower Community resident John Noer was about to tackle a 40,000 piece puzzle. The 6' x 22' Ravensburger stumper was delivered to Mayflower's Basement Craft Room in the Edwards building. Packed in a 3' x 1' box containing 10 pouches of puzzle pieces, the 10 vivid Disney scenes and characters comprise "The World's Largest Puzzle." The original master was hand-drawn in Germany.
To date, John has finished five of the 10 scenes, each containing about 4,000 pieces. Working in Mayflower's Basement Craft Room on two side-by-side six-foot tables, John scoops up pieces with a big spoon and spreads them out by color and edge shape. Hidden in each of the 10 frames is a Mickey Mouse symbol. The Ravensburger company estimates that it takes about 600 hours to complete the puzzle—that's about two hours a day, every day for a year!
The recently completed frame, which is pictured, is "Beauty (Princess Belle) and the Beast." On November 11th, John started working on Bambi, the sixth frame. Only five 4,000-piece frames to go!