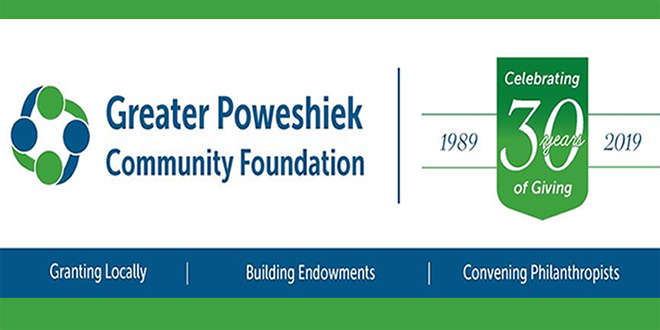 Greater Poweshiek Community Foundation (GPCF) will join in a national celebration, November 12-18, 2019, to recognize the important role community foundations and other philanthropic organizations play in fostering local collaboration and innovation to address persistent civic and economic challenges. During this time, GPCF is sharing its story with donors that have donated in building the famous skateboarding park in Poweshiek County.  Also on Thursday, November 14th, GPCF staff are joining representatives from the Claude W. and Dolly Ahrens Foundation and the Unity Point Health – Grinnell Foundation to share and reflect on stories of partnership and impact with the Grinnell College community. 
In this milestone year, GPCF is celebrating its 30th anniversary by thanking current and past board members, donors and organizations. GPCF Board President Laura Manatt reports "we are celebrating the fact that the Foundation is an important community partner and has distributed more than $16 million in the form of grants, scholarships and distributions."
The Poweshiek County Alliance is an impactful program administered by GPCF and funded by the State's County Endowment Fund Program. Since the annual grant's inception in 2006 almost $2 Million has been distributed throughout Poweshiek County to support fire departments, historic preservation activities, food insecurity programs, health and housing activities, education supports and many more. Statewide, 2019 marks the 15thAnniversary of the County Endowment Fund Program and earlier this year more than $11.41 Million dollars was distributed to 84 county community foundations (including GPCF) through the program.
GPCF also offers the Endow Iowa Tax Credit to donors who give to endowed funds managed by the Foundation. Since GPCF began to offer this tax credit in 2010 endowed funds under management have increased from $913,799 to more than $6.6 Million today. These permanent funds are providing annual support to many local charitable organizations. The Endow Iowa Tax Credit program was launched statewide in 2004 and has leveraged over $287 million in endowment gifts to support Iowa communities and charitable causes. This program has made nearly $66 million in tax credits available to Iowans who contribute to an endowed fund at an accredited community foundation in the state.
Community foundations bring a collaborative approach to solving tough problems in their communities, which leads to innovative solutions. GPCF has partnered with other local organizations to study literacy, childcare and recently homelessness. In addition, community foundations leverage private resources to form effective public-private partnerships. This can be seen locally through the partnership that GPCF has with the Claude W. and Dolly Ahrens Foundation as well as GPCF's management of several community campaigns including the new fine arts addition at Grinnell-Newburg High School; Drake Community Library; the Grinnell Mutual Family Aquatic Center and the campaign to improve Central Park in Grinnell. These are just a few examples of the countless ways community foundations are serving their regions.