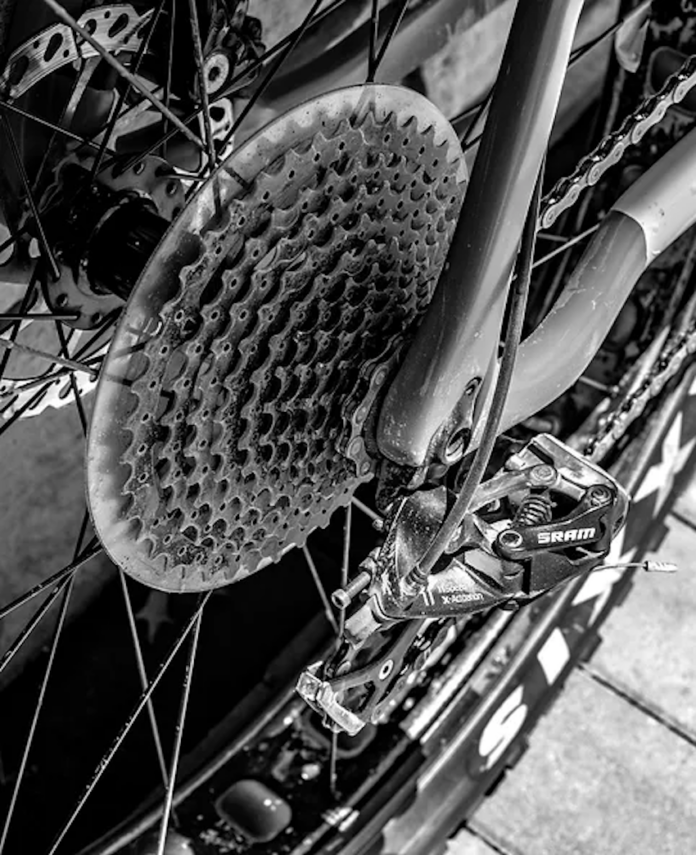 Imagine Grinnell's Prairie Burn group has announced plans to hold four, no-cost, 60-minute educational clinics about gravel biking, and a Gravel Gobbler event on Thanksgiving coinciding with the annual Turkey Trot run. The Burner Gravel Clinic series, for all gravel cyclists and those interested in gravel cycling aged 14 or older, will focus on biking basics, from safety to pro tips. These clinics and the Gravel Gobbler lead up to the group's annual Prairie Burn 100 in June, a gravel bike fundraising event supporting Imagine Grinnell.
New this year, the Burner Gravel Clinics will offer a ride before each session begins. Attendees will gather at 2 PM on the assigned Sunday for an approximate 45 minute ride on mixed surfaces. All rides will begin and end at Hometown Heroes, with the clinic to start at 3 PM.. The first of the Burner Gravel Clinics is Sunday, November 12th at Hometown Heroes with the theme of "Winter Riding." Topics in this discussion will include clothes and gear for riding in the winter, lights, and more. As with all the clinics, appetizers will be provided, and drinks will be available for purchase.
Between the first and second Burner Gravel Clinics will be the Third Annual Gravel Gobbler event on Thanksgiving (November 23rd). Participants arrive at Merrill Park at 8:15 AM for an 8:30 AM 20K (12 mile) mixed surface in-town bike ride. All ages and abilities are welcome. Riders are required to wear helmets and appropriate clothing for a cold weather ride is recommended. A Gravel Gobbler rider from last year commented, "This is a great way to get out in the morning and be active before Thanksgiving dinner. Each year we have had 10 plus riders and it's a good time; I look forward to this year's ride."
On Sunday, December 10th, the second Burner Gravel Clinic will focus on the theme, "Winter Training for Summer Riding." This discussion will cover the variety of training for inside and outside during the winter months. PWA fitness center director Holly Pettlon will lead the discussion. The third clinic, "Keeping it Safe," will be on Sunday, January 14th. Topics to be included are making the change from road to gravel riding, how to pace line and ride in a group, safety on the gravel road, and others. Finally, "Fueling Your Body" will be the fourth and final clinic, taking place on Sunday, February 4th. The session will focus on the nutritional aspects of riding gravel, short and long distances. The Prairie Burner group will also share upcoming gravel rides and races for the summer.
The goal of the Burner Gravel Clinics and Gravel Gobbler ride is to better prepare gravel riders for the warmer months and encourage participation in the Prairie Burn 100 on Saturday, June 8th, 2024, a fundraising event for Imagine Grinnell with 20, 50, and 100-mile ride routes. Proceeds from the Prairie Burn 100 will go to Imagine Grinnell's various sustainability and health efforts, ensuring continuous improvement of the Grinnell community.
In March, the group will restart their daylight-dependent weekly Tuesday gravel rides, and Thursday Gravel Curious rides starting at Bikes To You at 5:30 PM and lasting for about 20 miles (12 kilometers) for the Tuesday ride and about 13 miles for the Thursday ride. With the return of weekly riding, Imagine Grinnell will also introduce the newest program for community members, the Grinnell Bike Share. As the name implies, all-road bikes will be available for public use at Bikes to You. The mission of the Grinnell Bike Share is to encourage participation in a healthy outdoor activity while building community and increasing bike awareness in Grinnell. Tim Ellsworth, chair of Imagine Grinnell says, "We are so excited to offer bikes for community members to use for our gravel rides and also independently. New Salsa Journeyer bikes have been purchased for this program and we want to share the healthy adventure of biking with everyone." More information about Grinnell Bike Share will be available in March 2024.
For more information about Prairie Burn 100, the Burner Gravel Clinic Series, and gravel biking itself, visit prairieburn100.com and follow us on Facebook and Instagram (@prairieburn100).
Imagine Grinnell is a partner program of the Claude W. and Dolly Ahrens Foundation. The purpose of the Foundation is to provide improved and enhanced quality of life for present and future generations with interest in the areas of parks & recreation, education, and health with its collaborative partners.