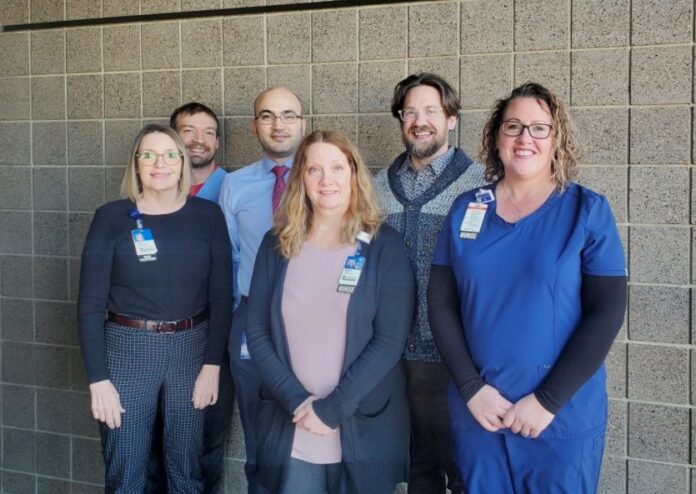 (GRINNELL, Iowa – February 7, 2022) UnityPoint Health® – Grinnell Regional Medical Center's (GRMC) bariatric surgery center has been re-accredited as a Comprehensive Center by the Metabolic and Bariatric Surgery Accreditation and Quality Improvement Program (MBSAQIP®), a joint Quality Program of the American College of Surgeons (ACS) and the American Society for Metabolic and Bariatric Surgery (ASMBS). GRMC has received this nationally recognized distinction since 2006.
The MBSAQIP Standards, Optimal Resources for Metabolic and Bariatric Surgery, ensure that metabolic and bariatric patients receive safe, high-quality, multidisciplinary medical care, which improves patient outcomes and long-term success.
"An integral part of our bariatric program is getting to know each patient and determining the best care plan for them," says Lynn Moorman, ARNP, Metabolic and Bariatric Surgery Coordinator. "Our care teams support patients in multiple areas including nutrition, exercise and wellbeing before and after surgery – we are with them every step of the way."
GRMC's commitment to quality care begins with expertly trained team members and the leadership of experienced bariatric surgeons. The program is tasked with continuous review of surgical data to continue improving the structure and outcomes expertise necessary to provide safe, successful and high-quality care to all metabolic and bariatric patients.
"We are proud of this accreditation and what it means for our current and future patients," says Phillip Bilderback, MD, FACS. "Our program has an established history of safe, quality care from expert team members with proven resources to make their operation a lasting success."
To earn MBSAQIP Accreditation, GRMC met essential criteria for staffing, training, facility infrastructure and patient care pathways, ensuring its ability to support patients with obesity. After applying for MBSAQIP Accreditation, centers undergo an extensive site visit by an experienced bariatric surgeon who reviews the center's structure, processes and clinical outcomes data.
Working together, the ACS and the ASMBS have developed accreditation standards for metabolic and bariatric surgery to assist patients with obesity in identifying centers that provide optimal patient care. The Centers for Disease Control and Prevention (CDC) estimates about 93 million adults in the United States are affected by obesity and that number continues to increase. The disease of obesity increases the risks of morbidity and mortality because of the diseases and conditions that are commonly associated with it, such as type II diabetes, hypertension, cardiovascular disease and cancer, among other health risks. Metabolic and bariatric surgery has proven to be effective in the reduction of comorbid conditions related to obesity.*
Learn more about surgical and medical weight loss options at UnityPoint Health – Grinnell by visiting unitypoint.org/grinnell/bariatric-surgery or calling (641) 236-4323.
________________________
*Buchwald H, Avidor Y, Braunwald E, et al. Bariatric Surgery: A Systematic Review and Meta-analysis. JAMA. 2004;292(14):1724-1737. DOI:10.1001/jama.292.14.1724.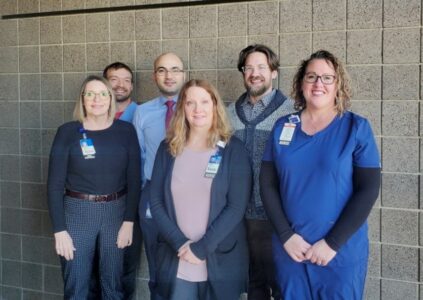 Photo Cutline: UnityPoint Health – Grinnell Bariatric Team
Pictured L to R: (front) Lynn Moorman, ARNP, Metabolic and Bariatric Coordinator; Natalie Cline, BSN, RN, GRMC Quality Manager; Angie Chidester, RN, Bariatric Program Coordinator/Surgical Case Reviewer (back) Jarrod Phelps, PA-C; Mahmoud Tayash, MD, Bariatric Surgeon; Phillip Bilderback, MD, FACS, Bariatric Surgeon.
About UnityPoint Health – Grinnell
UnityPoint Health® – Grinnell is a nonprofit and non-tax supported rural health care provider serving more than 40,000 residents in a six-county rural area of east central Iowa. UnityPoint Health – Grinnell includes Grinnell Regional Medical Center -a 49-bed hospital- as well as the Manatt Walk-In Clinic, Grinnell Family Practice, Montezuma Medical Clinic, Public Health, UnityPoint at Home and UnityPoint Hospice. It is comprised of 50 physicians and allied health care professionals who provide an array of services from birth to end-of-life. Specialties include bariatric surgery; emergency medicine; family medicine; general surgery; internal medicine; obstetrics/gynecology; otolaryngology; pain management; pathology; pediatrics; podiatry; radiology; and geriatric medicine. Visiting specialists in more than 10 concentrations provide additional specialty care for area residents. For more information, visit unitypoint.org/Grinnell.
About the American College of Surgeons
The American College of Surgeons (ACS) is a scientific and educational organization of surgeons that was founded in 1913 to raise the standards of surgical education and practice and to improve the quality of care for surgical patients. Its achievements have placed it at the forefront of American surgery and have made the College an important advocate for all surgical patients. The College has more than 82,000 members and is the largest organization of surgeons in the world.
About the American Society for Metabolic and Bariatric Surgery
The American Society for Metabolic and Bariatric Surgery (ASMBS) is the largest organization for metabolic and bariatric surgeons in the world, with more than 4,200 members. It is a not-for-profit organization that works to advance the science of metabolic and bariatric surgery. The ASMBS is committed to educating medical professionals and the lay public about metabolic and bariatric surgery, including the associated risks and benefits, as a treatment option for obesity.