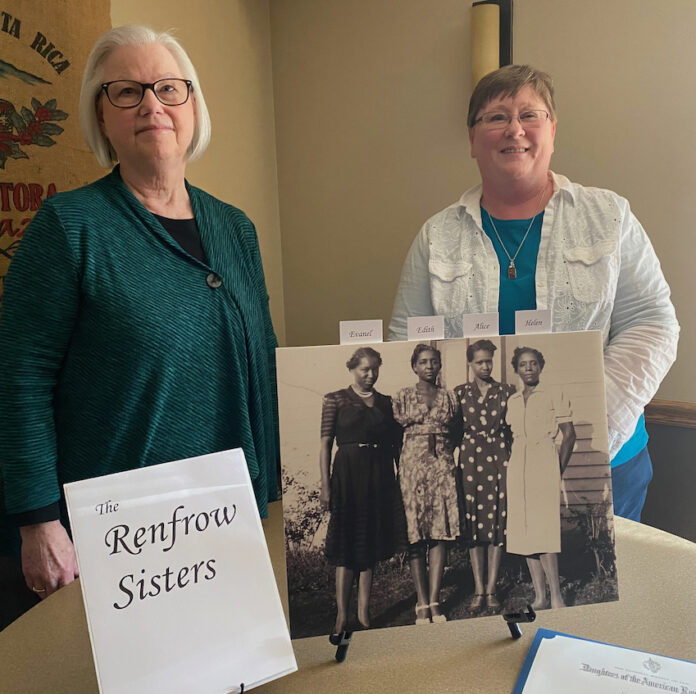 At their April 8, 2023, meeting the Grinnell Chapter Daughters of the American Revolution honored Edith Renfrow Smith by presenting her with the DAR's Women in American History award.
Edith Renfrow Smith was the first Black woman to graduate from Grinnell College in 1937.  She has recently been honored with the naming of Renfrow Hall, Grinnell College's newest building.
The DAR Women in American History award acknowledges outstanding contributions of women who have made a contribution or a difference in their communities. Awardees may be historical figures or currently living women who are, or have been, intellectual, educational, social, religious, political, scientific, or cultural innovators. Other Grinnell women who have received this honor include Cornelia Clarke, Fannie Buchanan, and Abby Williams Hill. 
A program entitled, "The Renfrow Sisters," was given by Monique Shore who spoke about Mrs. Renfrow Smith's life, and Barb Lease, from the Grinnell Historical Museum, who shared the stories of Mrs. Renfrow Smith's sisters. The Women in American History certificate and medal were presented to Mrs. Renfrow Smith in absentia.
The National Society Daughters of the American Revolution was founded in 1890 to promote historic preservation, education and patriotism. Its members are descended from the patriots who won American independence during the Revolutionary War. Any woman 18 years or older, regardless of race, religion or ethnic background, who can prove lineal descent from a patriot of the American Revolution is eligible to join. The Grinnell Chapter is named after Josiah B. Grinnell, the founder of the city of Grinnell. Members come from Grinnell, Newton, Montezuma and surrounding communities.
For information about membership in DAR, contact Nancy Bender, registrar, 641-236-7065.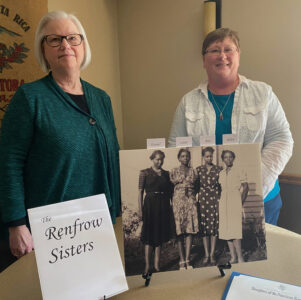 BarbAndMonique.jpg:  Barb Lease and Monique Shore presented a program on the Renfrow sisters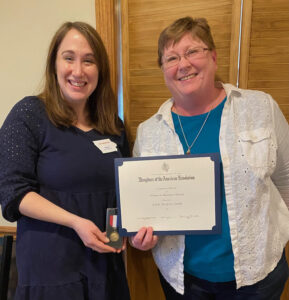 RitaAndMonique.jpg: Rita Mertens, Vice Regent of Grinnell Chapter DAR, presents the Women in American History award to Edith Renfrow Smith in absentia. Receiving the award on behalf of Mrs. Renfrow Smith is Monique Shore